Longtime racer and racing photographer jumps from his FP Miata to trackside with camera in hand
On any given weekend, Mark Weber may be the busiest guy at the racetrack. Not only is he racing his Miata in SCCA's F Production class, but he's shooting photographs of just about every other car on track, too – often skipping practice to photograph his own group. That's especially true at the SCCA National Championship Runoffs, where he serves as one of SCCA's official photographers.
"They put out a story per day and then a story per race for three straight days," Weber says of SCCA's public relations effort at the Runoffs. "Starting a couple of years ago, they wanted us to start dropping off memory cards and then go out and shoot some more. Sometimes I have a film runner that will pick up memory cards from three photographers, run them to the press room, and bring us back empty cards."
Weber didn't really set out to be a photographer. Really, he liked racing and wanted some memories of his time at the track.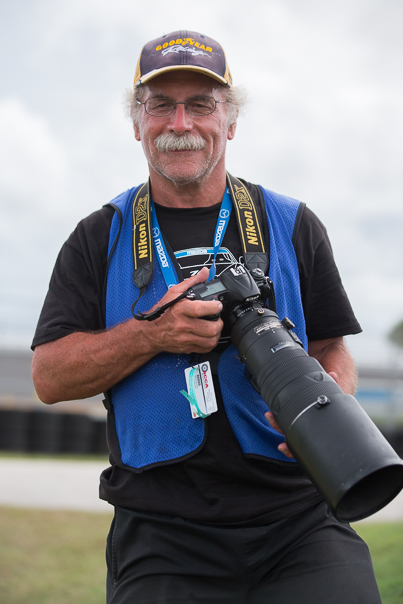 "The peculiar thing about my career, which I'm now more than 45 years into, is that I don't really like photography. I don't study it, I'm not an equipment freak, I'm not the most technically capable photographer. But I know how to take pictures of race cars on the racetrack. I started doing it because I wanted souvenirs of the races I was going to when I was 16 years old. I was attracted to sports car racing right away. I graduated from model cars to slot cars to karts to cars to race cars," he says.
A photographer friend recommended a camera, and he went to a race and shot some photos. As it turns out, he was the only photographer there, and the racers wanted photos. Another photographer friend had a darkroom – there were no one-hour photo processors then – and he produced some prints for sale on Sunday. "Well, 45 years later, some people are still paying me to take their race car pictures," Weber says. In those 45 years, he's worked for a variety of teams and manufacturers, and had photos published in a wide array of motorsports magazines and advertisements.
The story of how he became a racer himself, though – with well over 500 starts under his belt – is rather similar: hang out at the track, meet the right people, and one thing leads to another.
"I kind of knew I was going to go racing eventually, and I was lucky enough to come across some guys racing an H Production Bugeye Sprite who were friendly and took me along to several races," he says. "When one of the chaps decided his racing career was over, his co-driver ended up buying the car from him. But he was no mechanic, and by that time I had learned to maintain that Sprite, and I said I'd be his new co-driver and I'd take care of the car."
That went on for a couple of years, then Weber decided to buy his own G Production Sprite in 1976 that he raced for 30 years. Not only did he race it in G Production, but after breaking in the Runoffs race one year while within spitting distance of the podium, he decided he wanted another chance at it each year, so he began racing the Sprite in two classes; that meant changing engines sometimes twice a day at the Runoffs. For 18 years he raced at least two classes at the Runoffs, and one year he even raced Formula F, although he didn't repeat that experiment.
Eventually, the Sprite became less and less competitive, and it was time to find something new. He decided the Miata was the way to go.
"Jesse Prather came into the equation," he explains. "And Jesse's been so helpful, there's no way I could finish the races I finished without his help. And Mazda has been so incredibly supportive, as everybody knows. When I put together my 500th race celebration a few years ago, they were very supportive and congratulatory. I'm a human being, and it doesn't break my heart to get patted on the back once in a while," he laughs.
Weber – because he's German and likes round numbers, he says – plans to shoot the Runoffs for four more years and then put out a book called "50 Years of Runoffs Photography." And then he may retire. "I want to shoot the Runoffs because it's my favorite race, even as hectic and totally intense a week as it is; I live for it."
The next milestone will be at the end of 2023, when he'll be 71 and have raced in five different decades. "At the end of me racing 50 years, I told myself I'm going to sit back and reevaluate if I want to continue. Then I'll race some more," he laughs. "I don't see myself quitting."