Turbocharged Miata has been winning and setting track records in the fastest Touring class
One of the great things about the Miata is that there are many places to race it. For those looking to prove their driving skills but not their development prowess, there's Spec Miata. If you like to tinker a bit more, you can look at the Street Touring classes in SCCA or Performance Touring in NASA. Like to tinker a lot? SCCA's Production classes may be your calling, or GT-Lite. There are many classes you would expect to see a Miata, but in Touring 1 with Vipers, Corvettes, Ferraris, and Porsches? That's just crazy. But Marc Hoover doesn't call it crazy. He calls it winning.
Hoover used to race Mazda-powered D Sports Racers (now Prototype 2 in the SCCA vernacular), and even won an SCCA National Championship in the class in 2001. A hard hit into a wall, though, left him unable to walk for a while. As he tells it, when he recovered and started to rebuild the car, his wife said, "No, I don't think so."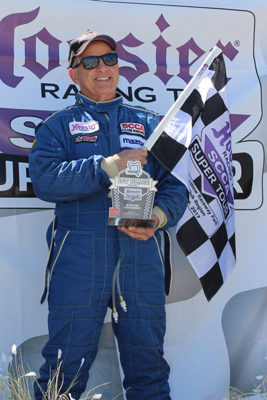 "At the time, my son Jason was doing Spec Miata, so I got involved with that," Hoover explains. "But it wasn't really fast enough for me. So then I changed the car to STU. We also ran it in NASA PTD and won the championship with it there. STU was awesome. Every Runoffs race was a podium. It's just a natural progression to want to go faster and faster, isn't it?
"However, I got on the wrong side of somebody and they didn't want me in the class anymore. They gave me an invitation to add a bunch of weight to my car or take the turbocharger I was using away, so I started looking for another sandbox to play in. I started reading rules, looked at Touring 1, wrote in and got it approved. I'm an old D Sports Racer guy, so it's right up my alley to engineer and have fun with it, and I have been."
Obviously a big Garrett turbocharger added to the 1.8-liter engine helps develop the power Hoover needs to compete against the big-bore machinery in Touring 1, not to mention set several track records this season. The big wing on the back helps, too.
"It's like the signature of the car. People look at it and wonder about it. But it works really well. The whole car is working really well right now. There's more in it, I think. I've spent a lot of time working out the bugs, and it's amazing how well it works. There's a lot of stock Miata components in there. The differential is stock, and the axles and the hubs. I have a transmission cooler, a differential cooler. I'm using a T5 transmission in it now, but I'm planning on putting a sequential gearbox in it," he says, adding that the car is currently about 100lbs over the minimum weight, and the sequential transmission carries a 100lb weight penalty.
Hoover says his power output is "in the 300s." That's a lot of power out of 1.8 liters, so much of what has been done to the car and the engine is designed to handle that power.
"When you step up the power level, there are other considerations," he explains. "I'm using pistons that are designed for a drag racing motor. I tried to overkill everything in terms of engineering. The frequencies that develop around the intake system, there's a certain area where frequencies develop from the rpm and the boost pressures. I found a JDM throttle body damper, a hunk of rubber on a bracket that bolts onto the throttle body bolts, but they don't have them anymore. So I now use a BMW transmission mount – it's a bigger piece of rubber, has a stud, and I bolt them to the brackets. It's really interesting what happens when that thing's not there. You have to figure all those kinds of things out."
That's the sort of engineering that the tinkerer in Hoover likes to do. He says the car is fantastic as it is – thanks in large part to the Hoosier tires he's using now – even if he wants to continue making it better. But he also loves the attention the car gets, especially when it's setting track records at COTA and taking double wins in the recent Hoosier Racing Tire Super Tour at Buttonwillow Raceway Park.
"The fan base is growing for it," Hoover says. "People love to see it in T1, and love to see it win."