The Central Division SCCA regional races at Blackhawk Farms Raceway kicked-off this past weekend with Julian Garfield debuting as the 2017 Mazda Solo Advancement Scholarship recipient, competing in Spec Miata.
Julian Garfield is an SCCA Solo National Champion, a former road racer, a freshman at the University of Kansas (about to be tackling finals), a 2016 Mazda Road to 24 Shootout Finalist, and the Mazda Solo Advancement Scholarship recipient. With this scholarship, and support from Hoosier Tires, Garfield is slated to run five highly-competitive SCCA Spec Miata events this season:
Blackhawk Farms Raceway, Double Regional event, April 21-23 (top-5 finishes);
Road America June Sprints, Hoosier Super Tour/Northern Conference Majors, June 16-18;
GingerMan, Northern Conference Majors, July 8-9;
Grattan Raceway, Northern Conference Majors, Aug 12-13; and
Runoffs at Indy (contingent upon qualifying), Sept 25-Oct 1.
In addition to road racing, Garfield will contend his typical SCCA Solo season to defend his ProSolo championship in his 2016 Mazda MX-5, and compete with Jayhawk Motorsports in Formula SAE competition for the first time.
It's a balancing act for most racers, either with school or work, and sometimes both. Garfield is in his freshman year studying mechanical engineering at the University of Kansas, which has kept him exceptionally busy; however, that hasn't stopped him from preparing for the 2017 racing season. "I have been watching videos and following results of the current Spec Miata competitors, and managed to spend some time on iRacing to learn Road America ahead of the Hoosier Super Tour in June," said Julian Garfield. "I am hoping my adaptation skills that I have developed from autocrossing can help me acclimate quickly to the five new tracks I will be racing and learning this year." As Mazda knows, it has proved to be effective when road racing in the past, which includes Blackhawk Farms this past weekend.
"This past weekend at Blackhawk Farms was largely used to shake the rust off and get back into the rhythm and mindset of competing wheel-to-wheel. I had yet to even sit in the freshly-built Miata that Advanced Autosports prepared for me before arriving for the event.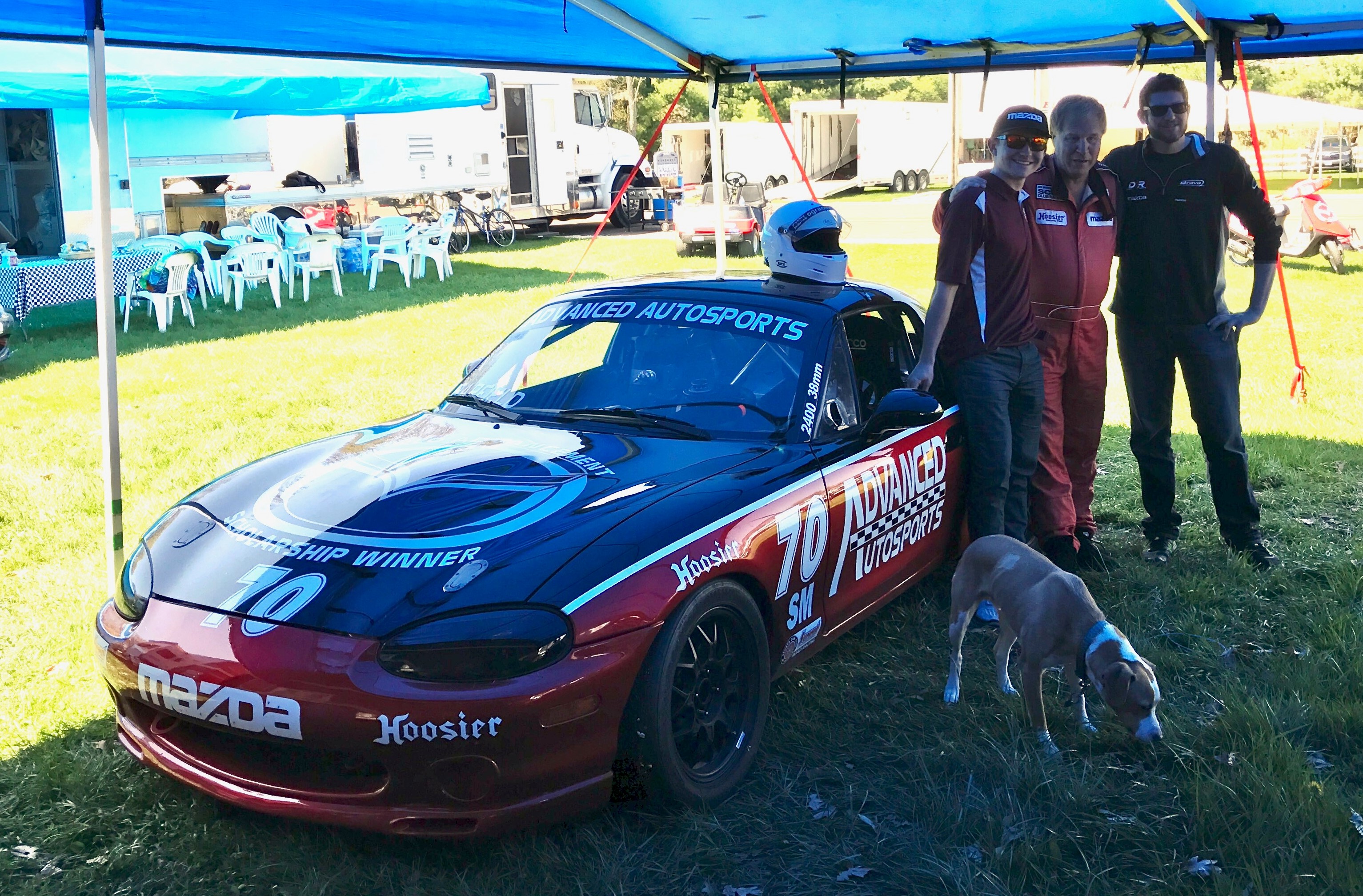 We began the weekend with a 25-minute qualifying run to set the grid for Saturday's race. Aside from a track walk the evening prior, it was the first time myself, and the car had ever seen the track. After a successful shakedown, I began utilizing the data and Danny's coaching between races to continue making improvements, and after four sessions I was very satisfied with my pace by the end of the weekend. While there is still plenty to learn, I gained a lot of confidence in the car and am content with the pace and consistency of my times. I believe we have built a great foundation to work off of in Road America."
Most racers with limited experience in road racing, and those without recent experience (both fit the bill for Julian), don't typically jump into Spec Miata, a highly competitive class, in qualifying and a race on day one. But Julian's overall experience behind the wheel, his support from Advanced Autosports, and coaching from professional MX-5 driver Danny Bender, enabled him to piece it together. "Nothing has me more excited than the intense competition that encapsulates Spec Miata on the national level. I am treating each event I partake in as a learning experience, with the goal of placing in the top 10 at the SCCA Runoffs this year in Indianapolis."
Garfield's goal is a tall task, but a challenge we know he is up to.
You can follow all the action by visiting Julian Garfield's Facebook page – Julian Garfield Racing – a "LIKE" and by checking back on MazdaMotorsports.com for more updates.