Sixth weekend of the Hoosier Racing Tire Super Tour features big fields in Virginia
The sixth round of the Hoosier Racing Tire SCCA Super Tour hosted more than 350 drivers at VIRginia International Raceway in Alton, Va., this past weekend. Six Mazda drivers took double victories in the two-day event, with 13 Mazda victories in the non-spec classes. SCCA's North Carolina Region put on the event on the challenging 18-turn, 3.27-mile circuit.
A big 50-car Spec Miata field enthralled spectators on Saturday. Front-row starters Tyler Kicera and Alex Bolanos hooked up early to establish a bit of a gap back to the rest of the pack and spent a good portion of the event exchanging the lead between one another. But SM ace Jim Drago was able to close that breach to make it a three-car battle as the race neared its completion. On the final lap, Kicera and Bolanos traversed a great deal of the circuit side by side, but it was Kicera in his No. 44 Kessler Engineering/Flatout/Carbotech Mazda Miata who reached the finish first.
"I was planning to work with Alex the whole race, but we just couldn't shake Drago. He managed to hang right in there and did a great job," Kicera explained before heading to the victory podium. "This is really a special win for me because it's my first one here at VIR. This is one of the few tracks I haven't been able to win at, so this feels really good." Kicera went on to repeat on Sunday.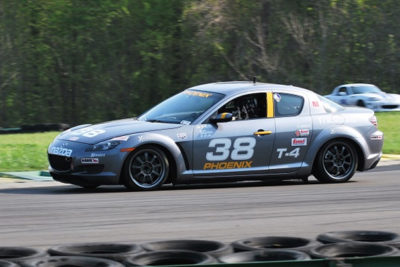 Sunday's STL contest between Eric Kutil and Saturday's class winner, Nick Leverone, was a hard battle for the first half of the race. Kutil took the early lead, with Leverone hot on his heels. Leverone got by after just a few laps, but Kutil stuck with it and regained the lead again and held it for several more laps. The two kept switching positions until the last half of the race when Kutil appeared to find some oil on the track and slipped off course. That was all Leverone needed to bring his No. 37 Flatout Motorsports Mazda Miata in for another STL win this weekend.
"It was a really good battle," Leverone said afterwards. "Eric Kutil was super fast and I was having a hard time even keeping up with him. We made several passes, and it was very clean racing. My hat is off to him."
Another driver who triumphed during the weekend with double wins was GT-Lite's Michael Kamalian in his No. 99 RevolutionSpeed.com Mazda Miata. While Kamalian was fairly dominant in the class both days, notching convincing wins, his battle over adversity actually developed earlier in the week.
"We had bad luck at the shop this week. A bunch of stuff got stolen," Kamalian said. "We had to thrash things together to get down for this race. We borrowed wheels and everything."
Bob Perona took two wins in F Production, and Don Knowles doubled up in Touring 4. Jacek Mucha also took a pair of victories in his Mazda-powered Prototype 1. The Hoosier Racing Tire Super Tour moves to the West Coast next, with SCCA's Cal Club Region hosting an April 29-30 event at Buttonwillow Raceway Park.
SCCA Hoosier Racing Tire Super Tour at VIRginia International Raceway
April 15, 2017, provisional winners
Class: Name, Hometown and Car:
F Production: Bob Perona; Indianapolis, IN; Mazda Miata
Formula Atlantic: Jenna Grillo; Abbottstown, PA; Mazda Swift 016
Formula Mazda: Shane Doles; Eatonton , GA; Star Mazda
GT-3: Jeff Dernehl; Roswell, GA; Mazda RX-7
GT-Lite: Michael Kamalian; Marietta, GA; Mazda Miata
Prototype 1: Jacek Mucha; Highland Beach, FL; JMS 016cp Mazda
Spec Miata: Tyler Kicera; Manheim, PA; Mazda Miata
Super Touring Lite: Nick Leverone; Mendon, MA; Mazda Miata
Touring 4: Don Knowles; Pittsboro, NC; Mazda RX-8
April 16, 2017, provisional winners
F Production: Bob Perona; Indianapolis, IN; Mazda Miata
Formula Atlantic: Spencer Brockman; Westport, CT; Swift 014
Formula Mazda: J. Salmon; Lynchburg, VA; Formula Mazda
GT-Lite: Michael Kamalian; Marietta, GA; Mazda Miata
Prototype 1: Jacek Mucha; Highland Beach, FL; JMS 016cp Mazda
Spec Miata: Tyler Kicera; Manheim, PA; Mazda Miata
Super Touring Lite: Nick Leverone; Mendon, MA; Mazda Miata
Touring 4: Don Knowles; Pittsboro, NC; Mazda RX-8