B-Spec racer from Vancouver heads south to compete in SCCA and aims for her second Runoffs
Cherie Storms is the daughter of a racer; but that didn't mean she was born holding a wheel. She had to ease into it. "I waited until my mid-20s; my father really wanted me to take driver training," she explains. "So I used my Mazda3 that I drove on the street and really got a sense for what he was doing and what it was all about, and how difficult it is to drive and make a car go fast and how much skill is required. I was really intrigued. I still didn't have any plans to go racing at that point, but after I finished the course, he asked me: 'Why don't you run some laps in the race car now that you've learned how to do it?'"
She did, and was hooked. While her father had a couple of race cars in the garage from another manufacturer, Storms really liked her Mazda, and at that time B-Spec was just being born; a Mazda2 prepped for the class looked perfect to her.
"I learned that our sanctioning body had adopted the class, and I learned a little bit about it and learned that is was for grassroots racers; something that was affordable to get into, and a slower, momentum car that would teach me how to go fast," she says. "You have preset costs – no one can outspend you – and it was new, so I knew there would be lots of attention on it. So I ran it and came second in the championship and won novice of the year in 2012."
In the two subsequent years, she won the Canadian Association of Car Clubs championship, and was invited to participate in the Mazda Road to 24 Shootout, although she missed out on being one of the top racers invited to the Shootout. She then began to branch out, because there's only one track on the West Coast of Canada.
"I needed to build higher speeds – we don't have any fourth-gear corners. At that point, I looked into SCCA and running the car down here," she says. "In 2015, I ran the car in the U.S. Majors Tour and I went to Daytona. That was an experience I'll never forget. The differences in the driving – the banking, the bump drafting – all things I'd never done before."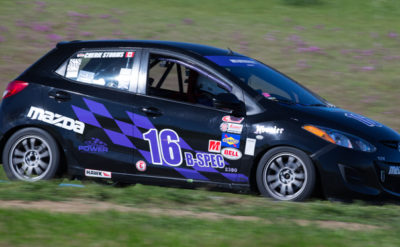 Another thing she hadn't done before was have a spotter, and through Mazda she had Chris Long on the radio. "That was huge for me," she says. "It really made my weekend and helped me with some strategy that I would never come up with on my own."
Money was tight in 2016 (the exchange rate doesn't help) so she only ran one race. But she's running the Majors again in 2017 with an eye on the SCCA Runoffs at Indy. It's not easy because her father doesn't travel with her, and she has to get advice via phone. "I'm a long way from home," she says. "I'm a true grassroots racer – I have no data, I have no idea what's happening with the car other than what I feel through the seat and through the controls. I'm getting all my information by phone and text message, and trying to prep the car and drive the car well without a lot of help. But ultimately I'm having a lot of fun."
The dream goal for the Vancouver native, who earns her living as a customs broker and operations manager for a brokerage firm, would be to run in the Idemitsu MX-5 Cup Presented by BFGoodrich® Tires. She says she's ready for something quicker. But she has loved her Mazda2 and the experience it has provided.
"I love how low maintenance it is," she says. "As someone who's trying to learn to drive and go fast, the last thing you need to worry about is whether the car is reliable and be changing parts all the time. These cars are tires, gas, and that's it. I also love what it teaches you. A lot of people might say, 'Oh, your race car only has 100hp, and there are people out there in higher speed cars.' But guess what? I have a lot of Mustang bumper paint on my bumper. I think it's a lot harder to make something slow go fast. You really have to be a good driver, be consistent, and not make mistakes. I like what it teaches you and how supportive it is for you when you're trying to learn how to drive."