Southwest Shootout brings out the best for an incredible Circuit of the Americas racing weekend
The March 25-26, 2017, return of SCCA road racing to Circuit of the Americas in Austin, Texas, brought out over 330 drivers from across the country to take on the 3.1-mile, 20-turn road course made famous by Formula 1. Spread over seven groups, the largest field boasted an impressive 75 cars. The three-day weekend featured practice and qualifying on a gloomy Friday, qualifying and a 25-minute race on a sunny Saturday, and a 40-minute or 15-lap sizzling race on Sunday.
Spec Miata kicked things off with 45 racers, all jockeying for position on the long front stretch as soon as the green flag flew. Andrew Charbonneau started on pole but instantly felt the pressure from Spec Miata regulars Chris Haldeman, Jim Drago, Danny Steyn, and T. Craig Berry. As the race progressed, Drago in the East Street Racing Mazda Miata worked his way to the lead, but Haldeman, in his X-Factor Racing/Mazda Motorsports/Hoosier Tires/G-Loc Brakes Mazda Miata, was close on his tail. Despite a couple of late passes, Drago was able to regain the lead and hold off Haldeman for the win, all while setting a new track record.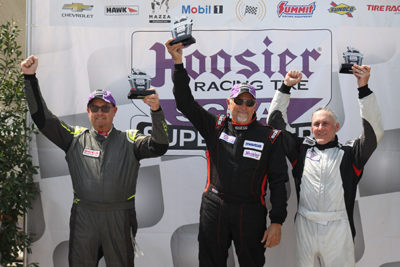 "It was a great race with some amazing competition at this world-class facility," Drago said after the win. "All of these guys ran well with no cautions, so it was a great day for us."
Luis Rivera backed up his double podium at NOLA with another double podium at COTA. Rivera, driving the RPM Motorsports/Hoosier/Mazda/Tiburon Motorsports/BWear Mazda Miata, took the STU win both days. Don Knowles also scored two wins during the event with his T4 Phoenix/Hoosier/Hawk Mazda RX-8.
Nick Leverone was able to bring home the STL win and track record on Saturday driving the Flatout Motorsports Mazda Miata. He beat out Brian Laughlin and fellow Flatout Motorsports teammate Tim Estes. The 18-car field had battles for position throughout the race.
In the Production category, Matt Reynolds not only brought home two first-place EP finishes in his Reynolds Bros. Racing/Hoosier/JPM/OS Giken/Vintage Connection/G-LOC Brakes Mazda Miata, but he also set a track record on Saturday, only to break it again on Sunday. Eric Prill also had a double win in FP, driving his MaxtonsFight.org/JPM/Hoosier Mazda Miata, breaking the track record in the process.
The wings and things race on Saturday was one many weren't sure was even going to happen. The 57-car field was granted a split start, putting the FA, FB, FC, P1, and P2 cars in the first group with FM and FE starting second. The first group was a bit antsy to start racing and the starter called off the green flag. A possible miscommunication caused the second pace car to come in, thus creating a confusing situation for the Formula Mazda polesitter and eventual winner Jarrett Voorhies. "It got to the point where I was starting to get confused as to when we were supposed to be going," Voorhies said. "I wasn't sure if another pace car was coming out, so I was just cruising, looking around trying to figure out what was going on."
When the green flag flew on the next lap, the field roared to Turn 1, a notoriously tricky corner. "There was a little bit of impact in Turn 1," Voorhies said. "I rubbed tires with another car, but we were able to continue, and the race was awesome."
Dudley Fleck took home the overall win both days in his K-Hill Motorsports/Hoosier/GK Motorsports 2006 Mazda Swift 016.
Sunday's Spec Miata race was uneventful for winner Chris Haldeman, and he was perfectly fine with that. "[The] race was textbook perfect," Haldeman said. "I led going in to the esses on the first lap, and I led every lap after that."
After overcoming some issues on Saturday, Craig McHaffie was able to bring home the STL win in his Flatout Motorsports 2008 Mazda Miata. "The race went really well…even though I had a terrible start," McHaffie said. "I was able to track Nick down after some pretty hard laps. I was really focused on hitting my marks so that I could bring home a win for my Flatout Motorsports guys."
SCCA Hoosier Super Tour at Circuit of the Americas
March 25, 2017 provisional winners
Class: Name, Hometown, and Car:
E Production: Matt Reynolds; Fair Oaks, TX; Mazda Miata
F Production: Eric Prill; Topeka, KS; Mazda Miata
Formula Atlantic: Dudley Fleck; Cedar Rapids, IA; Mazda Swift 016
Formula Enterprise: Justin Gordon; Lake Worth, FL; Van Diemen
Formula Mazda: Jarret Voorhies; Kissimmee, FL; Formula Mazda
Spec Miata: Jim Drago; Memphis, TN; Mazda Miata
Super Touring Lite: Nick Leverone; Mendon, MA; Mazda MX-5
Super Touring Under: Luis Rivera; Angleton, TX; Mazda Miata
Touring 3: Paul Kwiecinski; Northbrook, IL; Mazda MX-5
Touring 4: Don Knowles, Pittsboro, NC; Mazda RX-8
March 26, 2017 provisional winners
Class: Name, Hometown, and Car:
E Production: Matt Reynolds; Fair Oaks, TX; Mazda Miata
F Production: Eric Prill; Topeka, KS; Mazda Miata
Formula Atlantic: Dudley Fleck; Cedar Rapids, IA; Mazda Swift 016
Formula Enterprise: Paul Schneider; Charlotte, NC; SCCA Mazda Formula Enterprises
Formula Mazda: Jarret Voorhies; Kissimmee, FL; Formula Mazda
Spec Miata: Chris Haldeman; McKinney, TX; Mazda Miata
Super Touring Lite: Craig McHaffie; Walpole, MA; Mazda MX-5
Super Touring Under: Luis Rivera; Angleton, TX; Mazda Miata
Touring 4: Don Knowles, Pittsboro, NC; Mazda RX-8