Pro Parts USA and Mazda Motorsports help RX-8 and NC MX-5 drivers fine-tune handling via swaybars
In the world of SCCA autocross, swaybar modifications are things most classes enjoy. Effectively, if your car came with a swaybar, the rules probably allow it to be changed; and if it didn't come with one, you can probably add it. This works out well because a correctly adjusted swaybar can be a highly effective tuning tool for making any car faster.
For softly sprung cars in SCCA Solo's Street category, taking advantage of the allowance to change the front or rear swaybar can make a big difference in not only corner grip, but also transitional speed, and how your car accelerates off a turn. For Solo cars not limited to original equipment springs, a swaybar is still a very effective tuning tool, albeit used differently – rather than a supplement soft OE springs, the swaybar now acts as a balance device.
Thanks to the efforts of Pro Parts USA's Craig Nagler and Mazda Motorsports, Mazda RX-8 and NC MX-5 drivers have a massive range of front swaybar tuning options. "These modular swaybar kits are designed to give a racer and enthusiast the most options," says Nagler. "Because of these options, the swaybar kit can work for a variety of applications, from street to autocross to road racing and more."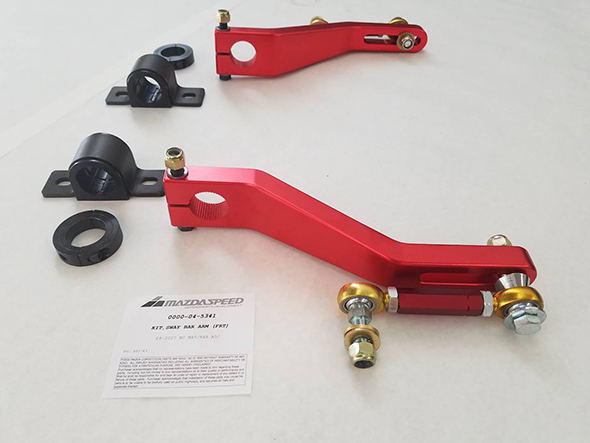 Commonly referred to as a "speedway style" swaybar, the setup Nagler helped develop allows for quick adjustments, as well as significant steps in bar rate, allowing the kit to work with your car even if you change classes or modifications.
"To start with, there are multiple torsion bar wall thicknesses to choose from," says Nagler. "Not everyone likes the same thing. Some might like higher [rate] springs and less swaybar, or vice versa. Some cars work better with more swaybar and some with less. On top of that, the billet aluminum arms have adjustable slots to further fine-tune the balance of the car. The slotted arms allow you to make adjustments by loosening the through bolt and sliding the link assembly."
This swaybar is sold as a two-piece system through Mazda Motorsports, with the Swaybar Arm Kit (part # 0000-04-5341) engineered to fit both the 2004-'11 Mazda RX-8 and 2006-'15 Mazda MX-5, at a cost of $421.00. The Arm Kit includes all of the associated mounting hardware and end-links.
"The end-links use 7/16-inch spherical rod ends and have left and right threads to make swaybar preload easier to set – if you're using scales to corner weight your car, this is important," Nagler explains. "The bushings that wrap around the swaybar torsion bar are urethane and allow just enough compliance not bind up as the chassis flexes. The urethane bushings are captured by a heavy-duty 3/16-inch bracket for added strength."
Additionally, you will need to select one of the splined center torsion bars to complete your installation
Part # 0000-04-5341-01: 0.095" Wall Torsion Bar (special order)
Part # 0000-04-5341-02: 0.120" Wall Torsion Bar, $128.00
Part # 0000-04-5341-03: 0.188" Wall Torsion Bar, $135.00
Part # 0000-04-5341-04: 0.250" Wall Torsion Bar, $144.00
Pro Parts USA measured the standard torsion bars at both extremes of the adjustable arms range, making it much easier to pick the right bar for your application.
That swaybar rate info is:
0.120" wall bar: minimum setting 350 lbs/in; max setting 513 lbs/in
0.188" wall bar: minimum setting 453 lbs/in; max setting 734 lbs/in
0.250" wall bar: minimum setting 513 lbs/in; max setting 820 lbs/in