By: Ron Bauer
Welcome back for installment 3 of the series, From Wrecks to Racers.
In the first two installments, we talked in general terms about the thought process on searching for a wrecked or damaged car. From here-out, we get down to business on my specific build. This installment details me finding my car, as well as some initial thoughts on classing; the next article will focus on the actual damage and starting the repairs.
We'll start by backing up a moment. In the first installment, I talked about setting a decision-making process on where you want to go. I'll start with my previous build of an NC (2006 MX-5) and work into the ND (2016 MX-5 Miata) that I've now acquired.
With the NC, I had previously built a 2007 MX-5 for CSP and then moved into my buddy Jim Daniels' 1994 Miata in DP for the 2010 season. Jim and I had a great time driving together for a number of years, and his car was quick, with him taking 2nd place at the 2010 National Championships, but I knew I wanted to get back into an NC.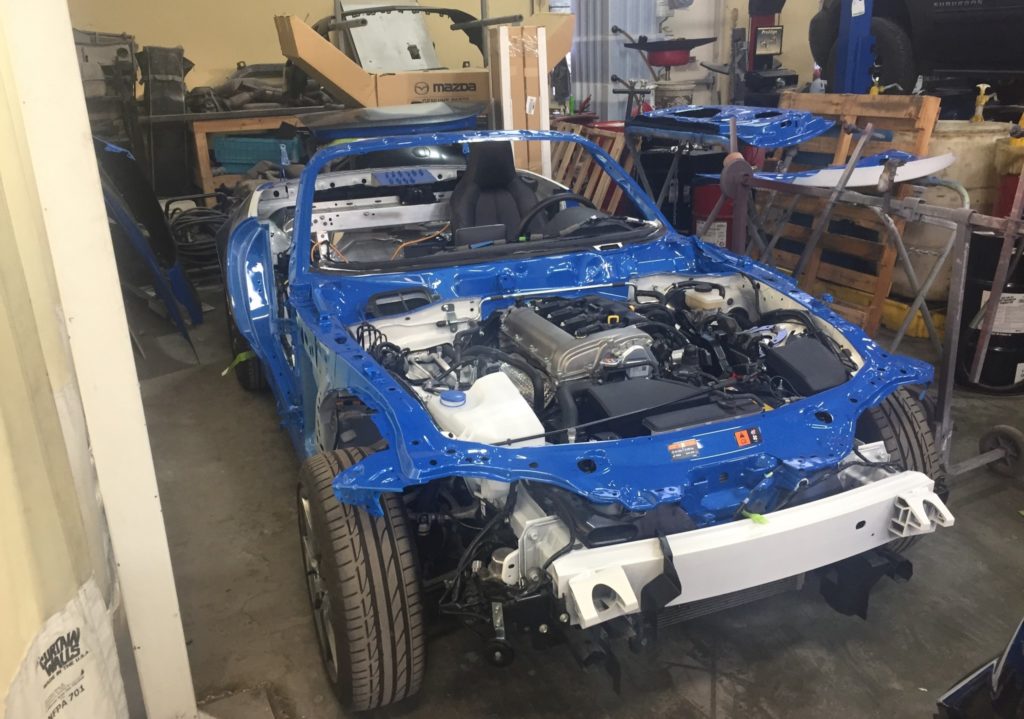 I'm sure that I'm not alone in searching Craigslist every day for cars. Not that I necessarily wanted or needed anything, but my fingers didn't like being bored, so searching the classifieds gave them something to do! I've been a Miata guy since 1995 when I drove my first one, and have owned more than I care to admit. I've brought quite a few back from the grave, and just like looking for deals. In any case, during one of my daily searches, I came across an ad for someone parting out a 2006. I quickly, with semi-approval of my wife Alyson, contacted the seller to find out whether they had the whole car, and if so, what was wrong with it, and whether they would be willing to sell the whole thing. The seller responded and sent me a couple of pictures of the damage (one of which was included in the previous installment.) It turns out that he had bought the car at an insurance auction to take the front subframe and suspension from for another car he had bought. The damage was to the driver's side of the car, with what appeared to be a sideswipe/t-bone hit. The damage appeared to be cosmetic, and limited to the door, rear quarter, and soft top.
As already noted, my intent for purchasing a car was to run it in DP. The rules allowed alternate doors, quarter panels, and removal of the roof, so the damage was perfect for my purposes. We made a deal for the car, and I towed it home. That build earned me a National Championship in 2014.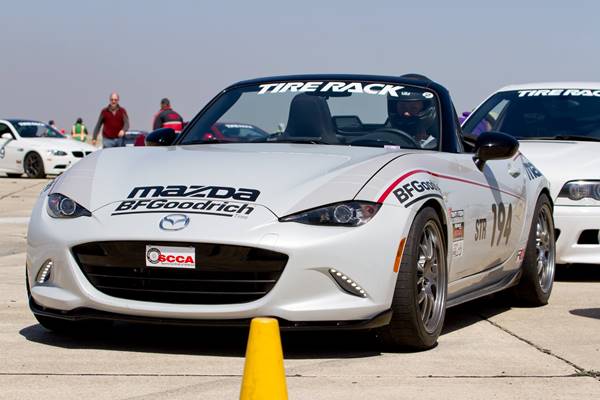 Fast forward to now. I purchased a brand new 2016 Miata initially to just be a daily driver; as you've probably seen, however, that car has been turned into a nationally-competitive STR car. Once that happened, I decided to sell the NC since it would otherwise just be sitting in my garage. While I loved that car, my philosophy is that my cars need to be used. I still love Prepared though, and the itch was there to build another car.
My build plan, therefore, was to find another wrecked car to run in DP. Just to muddy the waters a little though, I was also planning a stopover in Street Prepared. This step certainly could be done in the current STR car, so finding a car that didn't work for SP wasn't a deal-breaker.
Okay, back story out of the way. Time to move onto my purchase!
I had been searching all of the options listed in Installment 2, with the primary focus being on the insurance auctions. My previous build had me confident that I could repair the damage to almost anything; obviously, however, my preference was to find something that was purely cosmetic. I put in bids through third-parties on a couple of cars around the country, but ended up short.
My search was going on for over six months, and I was beginning to think I wasn't going to find anything in my budget. It didn't help that my budget was getting lower due to some home repair/remodel items!
Time to sidetrack for a moment. In my previous installment, I warned of the risk involved in buying a car through Copart. Let me give you a specific example. One of the cars I was looking at had been involved in a rear-end collision as the front car. The first time it came up for auction was from the insurance company. The pictures for that auction had the rear bumper cover off of the car. This made the actual damage easy to see, as it had definitely sustained a lot of damage under the bumper cover. The auction ended with a purchase price somewhere around $7,500, if I remember correctly. Obviously a big discount from purchasing new, but it would take a lot of work to fix the underlying damage, so I steered clear of it. Since I was checking the auction's site every day, I was not surprised to see it come up a couple of weeks later. I was surprised, however, to see that the new auction had different pictures. Again, the rules of the site dictate what pictures need to be on each auction. The purchaser from the first auction had reattached the bumper cover and taken new pictures. The damage in this case looked to be significantly less than the previous auction, and now had a "buy it now" option for $10,000. Obviously if you just started looking then, this might have appeared to be a great deal. So, be warned; due diligence is worthwhile as nothing beats inspecting the car in person. Again, most of the yards do have visitor's hours of which I highly recommend taking advantage.
Feeling discouraged, I still continued looking every day in hopes of finding something. As luck would have it, I found a car that had been involved in a rollover on Copart. Most of the panels had damage and the windshield header was partially caved in. I knew that I could deal with the body panels, and the rules in DP allow the removal of the windshield header in a convertible. I scoured the pictures and came to the determination that there didn't seem to be any structural damage. The best news was that the car was located in Eastern Washington, so the hope was that the buying pool would be lower since most of the wrecking yards that I'd be competing with would need to have the car shipped while I could actually go pick it up myself. The car was billed as "runs and drives," so this too was great. The only downside was that the car was an automatic. I've converted cars before, so while this added to the cost, it wasn't a deal breaker.
I continued to watch the auction. With it coming down to the last day and still being at a reasonable price, I decided I would bid on the car. The first thing I had to do was increase my deposit with Copart, as they require you to have a deposit of 10% of the amount you wish to bid. After taking care of this, I put my max bid in. Of course, I didn't take my own advice from above and did this without checking out the car in person, as it was about four hours away. I did know that it was the first time up for auction since I'd been watching the site for a long time, and the seller shown was an insurance company. Luckily I had taken the day off of work for other reasons, and as the auction ended, I had the high bid. It turned out the bid didn't meet the reserve, so I expected that nothing would happen. About thirty minutes later, I received an email saying they would sell it for $500 over my bid. I decided to pull the trigger, and purchased the car. I was a little shocked, however, when the final price came through after I already committed. I wasn't expecting sales tax to be charged, nor a couple other fees that I outlined in the previous installment. Nonetheless, I had already committed, so I was on the hook. I paid online for the purchase, so next up was picking up the car. – A quick note here – Washington State allowed me to purchase the car as an individual, but the fees were nearly double of what they would have been if I'd had a business license on file with them. Using a broker may have also ultimately been cheaper, but that's unknown.
I was excited and scared at the same time to see what I actually was buying. The next problem was that it was a Friday, just past noon, and they closed at 5:00. I didn't want to have to take another day off of work to pick up the car, so I quickly hooked up the trailer and hit the road. Google Maps showed me arriving at 4:45, but I needed to make a stop for fuel on the way. I also hadn't eaten lunch…
I contacted the facility to let them know I'd be cutting it close. They didn't seem to be in any kind of mood to stay late for me, adding to the stress. Making the phone call did help, however, I later found out. The fuel stop lasted about 5 minutes, and with snicker bars as my other fuel source, I had to make good time and hope for no unexpected delays, especially since I'd be getting into town on a Friday just before 5:00. I pulled into their parking lot at 4:45 and while my heart didn't slow down, I did breathe a quick sigh of relief. I saw the car sitting outside and went in to finish up the paperwork. I found out at this point that they had to move a number of cars around to get mine out of the building, so without my phone call, I would have likely been out of luck!
Paperwork complete, I drove the car outside their gate which they quickly closed behind me so their weekend could start. I had done it. I still had a long drive ahead of me, so a quick look-over was all I did. The weekend would give me plenty of time to look things over. It didn't matter though, as it was mine.
Next up, I'll go over assessing the damage, final classing determinations, and repairing the car.