BFGoodrich® Tires, official partner of the Idemitsu Mazda MX-5 Cup (presented by BFGoodrich® Tires), has provided the slick and wet tires for the professional series. Due to the interest the MX-5 Cup car has received by club racers and track day members, BFG, in cooperation with Mazda Motorsports and Long Road Racing, designed and developed the BFGoodrich g-Force R1-S – a DOT compliant competition race tire suitable for SCCA T3 / STL, NASA PTC, and country club or track day enthusiasts.
As with the pro series' g-Force slick, the DOT tire is proportionally sized to fit the tight confines of the ND-chassis on the spec Rays 17×7.5 wheel and maintain the constructor engineered ride height. The g-Force R1-S uses track proven BFG performance from experience gained in the Idemitsu Mazda Mx-5 Cup presented by BFGoodrich® Tires series since 2009, as well as SCCA Majors competition including three SCCA Runoffs National Championships in 2016 at the Mid-Ohio Sports Car Course.
Designed, engineered, and Made in the USA
MSPN 77121
Size 215/40ZR17
Section Width 218 mm
Overall Diameter 610 mm
Series Spec Wheel 17″ x 7.5″
UTQG 40
Warning: For safety and performance, the DOT g-Force R1-S should not be mixed with the pro series g-Force slick on the race vehicle.
Price: $280.00 per tire. Check with Long Road Racing or Jackson Motorsports Group for any potential pricing changes.
Available exclusively at the following race tire distributors in North America:
BFGoodrich Trackside Service
Jackson Motorsports Group (JMG), Greenville, SC 1.800.RACE.BFG
MX-5 Cup Constructor
Long Road Racing (LRR), Inc., Statesville, NC 1.980.223.8547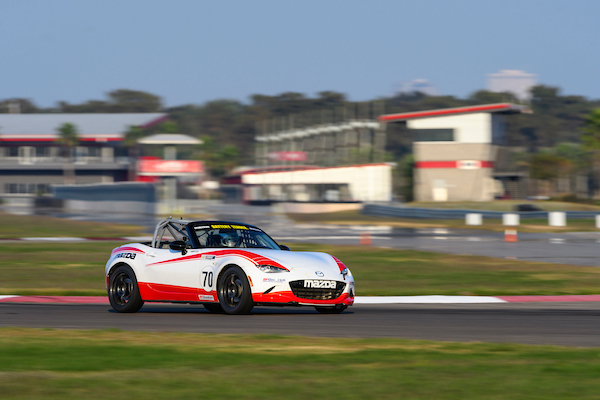 About MX-5 Cup
The MX-5 Cup race cars start as complete MX-5 road cars from the Mazda Hiroshima, Japan factory before being transported to engineering development partner Long Road Racing in Statesville, North Carolina where they are produced into a race car. The process includes disassembly of the production car, welding and paint of a full roll cage and interior, and assembly of the race car, adding more than 250 motorsports-specific parts. Other components of the car, including the Mazda SKYACTIV 2.0 liter engine are sealed to ensure even competition and a cost-effective platform.
The Idemitsu Mazda MX-5 Cup presented by BFGoodrich® Tires is the signature spec series for the Mazda Road to 24 (#MRT24), the sports car counterpart to the Mazda Road to Indy (#MRTI). On both paths, Mazda-powered champions earn a Mazda scholarship to advance their career. The MX-5 Cup champion earns a $200,000 scholarship.
Information on the car is online at www.mazdamotorsports.com.