– Mazda Road to Indy and Mazda Road to 24 programs together for big weekend –
IRVINE, Calif. (September 7, 2016) – Mazda Motorsports is involved in an array of racing categories, both open-wheel and sports cars. No matter the series, one of the key tenets for Mazda is helping further the careers of drivers, engineers, mechanics and teams. That will be on full display this weekend as five different Mazda-powered categories will race at Mazda Raceway Laguna Seca. More than 80 drivers from 19 countries will compete in 12 races Saturday and Sunday at the renowned 2.238-mile track. Mazda driver development scholarships will be up for grabs in the three open-wheel categories of the Mazda Road to Indy, while the Mazda Road to 24 program features the first-ever MX-5 Cup Invitational and the Mazda Prototype Lites series.
Championships to be Decided for the Mazda Road to Indy
Eleven drivers from seven countries are in the chase to win one of three Mazda driver development scholarships in the Mazda Road to Indy Presented by Cooper Tires. The year-end purse for the three open-wheel series is $2.356 million, with the champions claiming nearly $2 million in scholarships.
Indy Lights Presented by Cooper Tires
Six drivers are eligible for the $1 million Indy Lights championship after last Saturday's race at Watkins Glen where Zach Veach won and points leader Santiago "Santi" Urrutia found trouble. The prize for the Indy Lights champion assures at least three starts in the 2017 Verizon IndyCar Series season, including the Indianapolis 500. Two races at Mazda Raceway Saturday and Sunday will determine this year's scholarship winner as Uruguayan rookie Urrutia (who won the champion's scholarship last year in Pro Mazda) holds a lead of only one point over Dubai-based Ed Jones and a 23-point margin over Britain's Dean Stoneman.
Indy Lights Championship Contenders:

| | Driver | Country | Age | Team | Points |
| --- | --- | --- | --- | --- | --- |
| 1.) | Santi Urrutia | Uruguay | 20 | Schmidt Peterson Motorsports | 319 pts. |
| 2.) | Ed Jones | Dubai | 21 | Carlin | – 1 |
| 3.) | Dean Stoneman | England | 26 | Andretti Autosport | – 23 |
| 4.) | Zach Veach | United States | 21 | Belardi Auto Racing | – 31 |
| 5.) | Felix Serralles | Puerto Rico | 24 | Carlin | – 38 |
| 6.) | Kyle Kaiser | United States | 20 | Juncos Racing | – 40 |
Pro Mazda Presented by Cooper Tires
Teammates Aaron Telitz and Pato O'Ward of Team Pelfrey have battled all season for the upper hand in the Pro Mazda series. The champion will earn the $590,300 Mazda scholarship to advance up the ladder to the Indy Lights series in 2017. Telitz, a 24-year-old from Rice Lake, Minnesota, won a Mazda scholarship in 2012 to break into the Mazda Road to Indy, and has five wins this year. Telitz holds a 14-point advantage over O'Ward, a 17-year-old from Monterrey, Mexico, who has six wins of his own. The Pro Mazda series will have three races over the weekend.
Cooper Tires USF2000 Powered by Mazda
Cape Motorsports with Wayne Taylor Racing drivers Anthony Martin and Parker Thompson have traded the championship lead all season and are first and second in points for the $381,000 Mazda scholarship to graduate to Pro Mazda. Martin, 21, from Kalgoorlie, Australia, has six wins and holds a 21-point lead over Thompson, an 18-year-old from Red Deer, Alberta, Canada, who has four victories. Sao Paulo, Brazil native Victor Franzoni has one win and is a title-contender from third in the standings.
Mazda MX-5 Cup Invitational Champion to be Crowned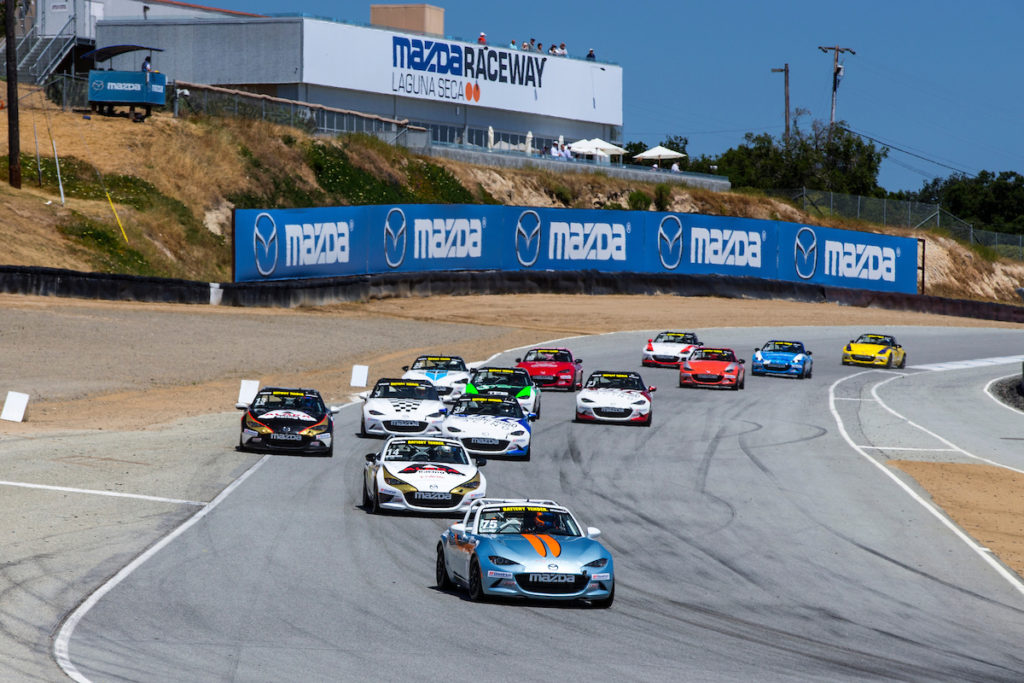 The first ever Mazda MX-5 Cup Invitational will feature 10 American drivers, five racers from Europe, and two each from Japan and Australia in two 45-minute races. The driver scoring the most points between the two races will be crowned the Invitational champion. The champion will be sent to Mazda Motorsports technical partner Multimatic to train on the "Driver in the Loop" (DIL) simulator. Upon a successful simulation performance, he or she could advance to a one-day test in the Mazda Prototype that competes in the IMSA WeatherTech SportsCar Championship series.
All of the Mazda MX-5 Cup and Mazda Road to Indy races can be seen live online at MazdaLIVE.com.
Mazda Prototype Lites Continue Torrid Championship Battle
The battle for supremacy has raged all season between JDC Motorsports teammates Austin Versteeg and Clark Toppe. Toppe, of The Woodlands, Texas, who will turn 19 years old Friday, won the last two races to pull within two points of Versteeg, 17, of Sandy, Utah. With five races remaining in the season, the JDC team has won 27 consecutive races in the Lites category since August, 2014. Recent champions of the Prototype Lites series include Mazda Prototype racer Tristan Nunez, Rolex 24 at Daytona winners Kenton Koch and Mikhail Goikhberg as well as Sean Rayhall, who has won races in the Indy Lights series and is returning to that series this weekend.
Mazda Motorsports
Mazda Motorsports boasts the most comprehensive auto racing development ladder system of any auto manufacturer in the world. The Mazda Road to 24 (#MRT24) program offers a number of scholarships to advance drivers up the sports car racing ladder, beginning with the MX-5 Cup series and culminating with the Mazda Prototype team. The Mazda Road to Indy (#MRTI) is a similar program that includes Mazda-powered categories of USF2000, Pro Mazda and Indy Lights. In grassroots road racing, more Mazdas race on any given weekend in North America than any other manufacturer. Mazda is also the title sponsor of the renowned Mazda Raceway Laguna Seca in Monterey, Calif. Follow all of the latest news at MazdaMotorsports.com, @MazdaRacing on Twitter, and MazdaMotorsports on Instagram and Facebook.