Our farewell to Steve Sanders and Mike Allen from the Motorsports team.
Over the years, many of you have grown to know Steve Sanders (pictured right) and Mike Allen – two key members of our competition parts team. Whether it was at the track, on the phone, or replying to off-hours e-mails, they have been Mazda blue for decades. Both will be us leaving today, on August 1st, but each for very positive reasons.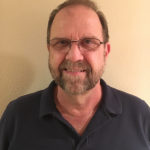 After 30 years with Mazda, with the vast majority of those years in motorsports, Steve has elected to retire. As we noted in a previous profile of Steve, he is very much a grassroots racer with a focus on customers. Steve noted that: "I used to volunteer as a corner worker. It was some of the most fun I have had in this sport. To see the happiness and excitement on the race track, and even the opposite emotions, drives me to continue exceeding expectations for our customers." A core value of Mazda's is to never stop challenging. And, we won't. We wish Steve a great retirement.
With Mike, our loss is another department's gain; Mike has earned a well-deserved promotion, in technical operations, just down the hallway from his current office. In his new position, Mike will play an integral role in making sure Mazda technicians across the country can solve any problem a customer brings in. His work with Mazda Motorsports, Long Road Racing, and key partners in the development of the MX-5 Cup car, including being the technical face of Mazda at the Idemitsu MX-5 Cup races will be missed. We congratulate Mike on his promotion.
John Doonan, Director, Mazda Motorsports, Mazda North American Operations.
"It is a bitter sweet moment to see Steve and Mike move on from our team. Steve has earned an opportunity for retirement and we wish him and his family only the best. Mike too has earned an opportunity, but his is related to serving a different division of Mazda. We won't let him get too far away from our Motorsports group and I suspect you will see Mike at a race track in the not too distant future.
"The Mazda Motorsports program has been built on a foundation of serving our grassroots racing community and anyone who races a Mazda. While we lose two very talented team members in Mike and Steve, we will absolutely not lose our focus on customer racers and seeing them succeed in a Mazda."
We can't thank Steve and Mike enough for being great colleagues and great friends. Hopefully both of them will still show up occasionally at Mazda Raceway as friends and race fans.
James Painter, Scott Kaluza, David Cook, and our entire team at Mazda Motorsports will carry on the legacy of Steve Sanders and Mike Allen. In the near future, we will be adding new members to our competition parts team in Irvine, CA. For those who share our passion for customer service and motorsport, and may want to join our team, please keep an eye out for job postings at https://www.mazdausa.com/site/careers. Until these postings are available for all, we will not be able to discuss them. After that point, please feel free to show your interest.
To Steve and Mike: Thank you again for all you have done and how you have done it.