Last year, we learned about an up and coming driver who recently made the transition from karting to sports cars – Max Nufer. After this double podium in Spec Miata at the SCCA Majors event at Mid-Ohio last weekend, we followed up with Max to learn more about his quick rise to sports car excellence.
At age 16, what do you find to be the most difficult aspect of building your racing career?
I have to manage my time between school and racing. My high school, Christian Brothers College, has been great about allowing me to miss school and make up my work. I find the most difficult aspect of racing is trying to create value for potential partners/sponsors. Most businesses have not heard of the SCCA and not having a TV deal makes it harder to justify the possibility of them getting a return on investment.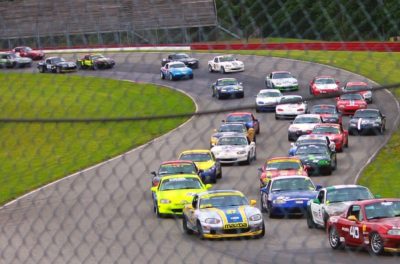 Last season, you were a top 10 driver in your first year of cars. Now you are running at the front. Your recent double podium during the SCCA Majors Tour at Mid-Ohio proves you are a top talent. Who do you credit toward this fast rise in sports car racing?
I think my fast rise in car racing is thanks to a long list of people. The Spec Miata community welcomed me with arms wide open, especially Jim Drago and the East Street Racing team as well as Steve and Tom Scheifler. They take time out of their busy schedules to help me set up my car, review my data, and give me driving tips. Their advice has helped develop my racing skills and increased my team's knowledge on car setup.
Surrounding yourself with people who support you is key. Other than a particular person or race team, what's an additional reason you have advanced so quickly?
This past winter, my father and I built our own Spec Miata race car. Jim Drago and the East Street team provided technical advice as we built the car. By building our own car, I gained an understanding of how everything goes together and the mechanics behind the car. I was there for every part of the build. The more knowledge you have about the car, the better the feedback you will be able to give your team. To be competitive in this sport, I am sure any sport, you have to work at a lot of things. Getting more seat time has also been a big help. This year we have run most of the Northern and Mid States SCCA Majors Tour Conference races, which has allowed me to become more comfortable with the car, new tracks, and reviewing data. Lastly, I've spent a lot more time practicing on the simulator.
Now that you have successfully made the jump from karts to sports cars, what tips can you give to young up and coming drivers who are looking to do the same?
First, never underestimate the impact of weight transfer in order to turn a fast lap. That was one of the biggest learning curves for me and by getting the car to rotate into some corners, allows you to carry more speed. Another thing is don't be afraid to go and ask faster guys for advice. I've spent a lot of time, and still do, in other people's trailers trying to see what I can do to go faster. That's probably one of the best ways to get up to speed in any class you race.
Who has been the biggest help to you to get where you are now?
My biggest supporters are my parents. They have made huge sacrifices ever since I started karting when I was five years old. From the late nights spent prepping karts and cars to the cold and wet weekends they've spent sleeping in the race car trailer, they have always been there for me and believed in me. Without their support, I would not have gotten anywhere.
What are your racing plans or goals for 2017 and beyond?
Our plans for the 2017 racing year are to run the Idemitsu Mazda MX-5 Cup presented by BFG. We are actively working to create value for potential partners. We would like to continue to progress our way through the Mazda Road to 24 ladder system. I firmly believe that this is the best way to go about achieving my aspirations of becoming a professional race car driver. Mazda gives back so much to the racing community and has a very well developed system that has been proven time and time again that it is successful.
Will you win the Runoffs this year?
It is my intention to win the Runoffs. It will be a challenge, especially with the high levels of talent in the field, but I believe with enough preparation and hard work, a victory there is attainable. As soon as I got home from Mid-Ohio, I went straight back to practicing on the simulator and reviewing data from the weekend. I can't wait to go back to Mid-Ohio in September for the Runoffs. It's a great track with a lot of complexity. I will give it my all.