– Mazda Team Brings Big Momentum to Belle Isle –
IRVINE, Calif. (May 31, 2016) – The Continental Tire Monterey Grand Prix powered by Mazda was almost – almost – a dream race weekend for the Mazda Prototype team at Mazda Raceway Laguna Seca in the most recent IMSA WeatherTech SportsCar Championship event. The two-car team were first and second in each practice session. In qualifying, Tristan Nunez won the pole position in the No. 55 Mazda by a tiny margin over teammate Tom Long (pictured above at Mazda Raceway) in the No. 70 car. Once the race began, the two Mazdas pulled away from the field easily, leading for 25 laps and by as much as 20 seconds. Frustratingly, mechanical issues and a quick spin took the team from contention for the victory, though it did mark the second consecutive race with a team-best fourth-place finish. This week, the Mazda team is back in action at the Chevrolet Detroit Belle Isle Grand Prix for a 100-minute race starting at 12:40 pm Saturday. The Chevrolet Sports Car Classic will take place on the 2.3-mile, 14-turn temporary street circuit on Belle Isle. (Watch live on Fox Sports 1 from 12:30 to 2:30 pm Eastern Time.)

Quotes from Jonathan Bomarito, Driver, No. 55 Mazda Prototype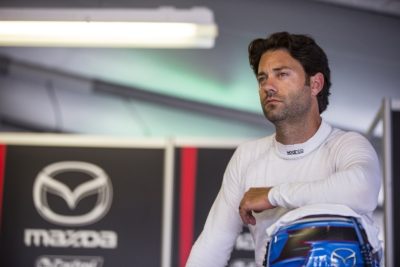 The team was expected to do well at Mazda Raceway due to the smooth nature of the track, but Belle Isle is a very different street course. Will that impact the performance of the Mazdas? "The performance should translate. Detroit is certainly a bumpy street course, like Long Beach. We were very competitive in Long Beach, so we can take what we learned there and apply that to be even stronger than we were."
With the IMSA "Balance of Performance" rules, the Mazdas received an additional 15kg of minimum weight for the Detroit race after the dominance at Mazda Raceway. Is that a problem? "It's a race car and you want it as light as possible! Where we'll notice it is in braking zones and in the corners. Once you get the car rolling down the straightaways, it doesn't affect that too much. Overall, it isn't that big of a change."
The No. 55 team did not race at Belle Isle last year as Bomarito and Tristan Nunez became test drivers to develop the Mazda MZ-2.0T engine. How does that impact the practice sessions? "I haven't been to Detroit since 2012. I was running with Mazda in the RX-8 and we finished second. So the last time I ran there was a podium finish. The track configuration and the surface has changed, and I'm now in a Prototype, so a lot of new features for me to learn. It means we will have to focus a little more on track time for myself and Tristan to get fully acclimated."
Do you think about the walls on both sides of the track at a street course? "A typical street course has long straightaways and hard-braking zones into corners that are usually 90 degrees, low- to medium-speed corners. This one has a few fast corners with high consequences if you get the corner wrong. But, once you know the track and you're confident with the car and the grip levels, the thought of the walls goes away. You know they're there – that's your limit – you just know it's the edge of the track. You use all the road like you normally would and you disregard them being there. Until you hit one. Then you know it's there!"
Driver Lineup for the Mazda Prototype Team
No. 55 Mazda Prototype: Tristan Nunez / Jonathan Bomarito
No. 70 Mazda Prototype: Tom Long / Joel Miller
Point Standings (after four of 10 races)
Bomarito and Nunez are tied for sixth, while Miller and Long are tied for seventh in the IMSA Prototype driver standings. Mazda is currently third in the Prototype manufacturers point standings.
Mazda STEM Appearances in Detroit and Troy
The national-touring Mazda STEM (Science, Technology, Engineering and Math) program R.A.C.E. (Racing Accelerates Creative Education) will provide multiple presentations this week. On Wednesday, July 1, the program will be presented twice (10 am and noon) at the Martin Luther King Jr. Senior High School in Detroit. Students from five Detroit high schools will attend. The program will be presented again on Thursday, May 2 at Troy High School at noon. The Mazda STEM presentation features Mazda Prototype driver/mechanical engineer Joel Miller. The Troy program will also include Mazda racer and Marine Staff Sgt. (Ret.) Liam Dwyer. Media are welcome (and encouraged) to attend. Contact Jade Gurss for more details.
Mazda Motorsports
Mazda Motorsports boasts the most comprehensive auto racing development ladder system of any auto manufacturer in the world. The Mazda Road to 24 program offers a number of scholarships to advance drivers up the sports car racing ladder, beginning with the MX-5 Cup series and culminating with the Mazda Prototype team. The Mazda Road to Indy is a similar program that includes Mazda-powered categories of USF2000, Pro Mazda and Indy Lights. In grassroots road racing, more Mazdas race on any given weekend in North America than any other manufacturer. Mazda is also the title sponsor of the renowned Mazda Raceway Laguna Seca in Monterey, Calif. Follow all of the latest news at MazdaMotorsports.com, @MazdaRacing on Twitter, and MazdaMotorsports on Instagram and Facebook.