Bridging the gap from "car enthusiast" to "race car driver" is simpler than you may think. Thanks to sanctioning bodies such as the Sports Car Club of America (SCCA) and the National Auto Sport Association (NASA), anybody with a functioning automobile has a place to push their cars and driving abilities to their absolute limits.
There are several racing disciplines to choose from, but assuming you're sticking to the pavement, Road Racing and Autocrossing are the two most popular forms of grassroots motorsports across the United States. There is a lasting debate among competitors of which discipline is the better choice – more fun, better value, better culture of racers, etc.
We turned to one of our accomplished racers to help educate you on both. Julian Garfield has framed the answer, we believe, accurately and wisely: "If you're looking for an answer, I don't have one for you." However, since he's spent time successfully competing in both forms, he's provided you with just about everything you need to know to decide for yourself.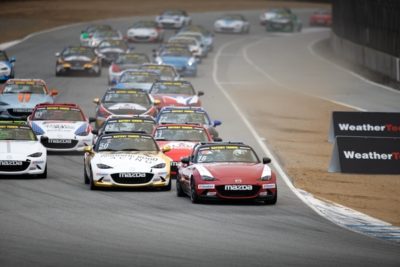 ROAD RACING
Aside from perhaps NASCAR in the United States, Road Racing is what most often comes to mind when discussing car racing within the general population. I personally competed in Road Racing for the 2012 and 2013 seasons, acquiring both NASA and SCCA competition licenses. While picking up several wins in Showroom Spec Miata, a large regional class, I competed in the annual 13-hour endurance race held at Virginia International Raceway.
Road Racing is a high-speed, intense battle among competitors where consistency, mental fortitude, planning, and large amounts of confidence and funds are required to compete at the front. It is there that drivers race "door-to-door" and "bumper-to-bumper" with one another on a closed course to see who will reach the checkered flag first.
Over the course of a typical racing weekend, you can receive hours of time on track, broken down into several fifteen, twenty, thirty-minute sessions. Endurance Road Racing includes sessions that may last up to as long as two or three hours for one driver, where extreme focus is demanded throughout the entire stint; not to mention, it is just as intense from the first minute to the last. Planning and executing the perfect pass takes a lot of patience, but at least a serious adrenaline rush comes with it. There is no other feeling like two people attempting to occupy the same apex in the quickly approaching corner, or leading a pack of thirty cars that all want your position heading into the first corner.
There is also much more to the Road Racing experience than what goes on in the car, spending the weekend track-side is a great way to unwind with a great community of people. A race weekend usually means spending the entire time at the track, and when the racing has concluded for the day, there is a lot of down time for food, drinking (which I only witnessed), games, and good conversation. During my experience, I was taken under the wing of MEATHEAD Racing, one of the largest Spec Miata teams in the country, which always guaranteed great food, great friends, and an overall great track-side experience.
However, there is a reason I no longer participate in road racing; it's just too expensive for me; I simply could not generate enough sponsorship dollars. To conservatively campaign a competitive car in a regional road racing series, it'll likely set you back roughly a grand a weekend, which gets rather costly over the course of the season. This is assuming you make it through unscathed of course, without any blown motors or "car-meets-wall" experiences. And while no one wants to make any costly errors on track, it happens; and you'll foot the bill for your own car regardless of who is to blame. That's where risk comes in. There is a huge risk taking your car out on the track, and while you can go your entire racing career without any incidents, you need to have the understanding that your car can be lost in the blink of an eye with one little error. The cost is definitely not unmanageable, however, as there are plenty of ways to offset costs. I am forever thankful of those that were willing to partner with and help me throughout my road racing experience, but finding that sponsor that is willing to boost you into the big leagues is extremely challenging, and most people will never receive or create that opportunity.
Road Racing is the place to be for a high-speed, heart-pounding adrenaline rush intertwined with a weekend filled with laid-back lounging and partying, and I miss it dearly.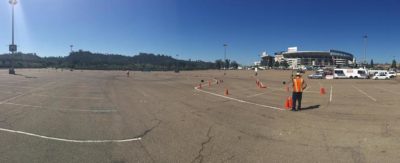 AUTOCROSSING
Autocrossing, or referred to in the SCCA as "Solo," is a time-based event where competitors drive their vehicles through a course defined by cones as hastily as possible. Their times are compared to other drivers in "like cars" built to the same degree of the rules. These events are most often held on large, wide-open parking lots found at sports stadiums or airports. Having been involved in Autocrossing for over two thirds of my lifetime, I have become very connected to the sport including serving on my local region's staff. I have picked up my share of wins and championships on the national level, and regularly work as an Autocrossing instructor.
Autocrossing puts a driver's ultimate car control to the test, where precision, looking ahead and quick adaptation are keys to success. With a very limited number of chances to master the course, the way the driver can handle pressure is important to his or her overall performance. Autocrossing can provide you with one of the most extreme 60-second periods you will ever experience, and almost manages to make a lap around a race track seem boring.
A typical Autocross consists of three or four attempts at a course that no one has ever seen before, and no one will ever see again. If you were to add up the total amount of time you spent Autocrossing on a given Sunday, you might realize that you spent twice the amount of time eating your hamburger that day. This is the most common discouragement that pushes people towards road racing, and with good reason. Autocrossing has to be appreciated for what it is; part of the sport is only getting so much time on a course, or certain skills become irrelevant.
A major advantage to Autocrossing is that it can be done at a fraction of the cost of Road Racing. Although building an Autocross car can exceed the cost of a track car, lower entry fees, lower maintenance costs, and a significantly lower chance for damage and repairs make Autocrossing far more affordable. Not to mention, you can have a blast on course in anything from a six-figure race car to a $2,000 Miata – any of which can dual-purpose as a daily driver. Contingencies pay roughly the same as road racing, but there have been people known to make more money than they spend in a successful season. The huge difference is that your Autocross car cannot be lost in the blink of an eye. Autocrossing is truly the only place where you can push your car to the absolute 100 percent edge of grip, without any likely consequence. With the worst thing you can hit is often the cones, it allows you to safely find the maximum capabilities of your car. For this reason, Autocrossing can be used as an educational tool as well, giving common street drivers the ability to toss their daily driver safely out of harm's way in the event of a potential incident.
The problem is, to the general public Autocrossing doesn't sound very cool. When my high school friends ask about Autocrossing, I have to attempt to explain why I travel halfway across the country to spend 12 hour days on a parking lot driving at highway speeds… for five minutes of competition. If you judge Autocrossing before you try it, you're making a big mistake. For those that may think they're above driving around cones in a parking lot, take note of Rolex 24 Hours of Daytona winner Kenton Koch, two-time Indy 500 winner Al Unser Jr., and former Formula 1 driver Eliseo Salazar all competing in recent national-level SCCA Solo events for more "seat time" working on footwork and timing. Autocrossing can provide a very competitive environment and hosts one of the largest motorsports events in the world, with over 1200 competitors at the 2015 SCCA Solo Nationals.
And just like Road Racing, there is much more to the experience. At the typical Autocross, you will meet some of the greatest people that will become your friends for life. More often than not, everyone is willing to lend a hand so your experience is as great as theirs. Car broke down? Chances are you'll find people, total strangers even, jumping to your aid, and even offering their own car for you to drive.
There is no better place for a car enthusiast, young or old, than an Autocross. The days may be long; the competition may be short; however, the cars are cool; people are incredible; the competition is intense.
So if you have a sports car in the garage, and an open weekend in the calendar, you'd be doing yourself an injustice if you don't find yourself at a local Autocross or Road Racing event to attend. I can surely say that I will be racing for the rest of my life; Road Racing and Autocrossing can bring automotive enthusiasts like you and I an experience like no other. Now if I can just get my hands on a rally car….