IRVINE, Calif. (April 30, 2016) – For the last three races, the Mazda Prototype team has recorded best-ever qualifying results in the IMSA WeatherTech SportsCar Series. But this one can never be beaten – only matched. Tristan Nunez set a track record to put the No. 55 Mazda Prototype on the pole for tomorrow's Continental Tire Monterey Grand Prix at Mazda Raceway Laguna Seca. Alongside on the front row will be teammate Tom Long, who qualified the No. 70 Mazda second. The two-hour race can be seen at 2 pm ET / 11 am PT on Fox Sports 1. It is the first pole for the Mazda Prototype team that began life with a stock block diesel engine, but has lept into contention this year with the new Mazda MZ-2.0T gas-powered engine.
"I'm at a loss for words. I think the whole team is at a loss for words right now," said Nunez, shortly after his record-setting lap. "We knew what we had coming in here. We had a strong car and our car loves this track. I mean, it's Mazda Raceway Laguna Seca, after all. We pushed our hearts out – in both cars. We're starting tomorrow's race one – two, so what better place than Mazda Raceway Laguna Seca – especially for our first pole? I'm extremely honored to be the one that got to do that so it's awesome.
"I was driving on the edge – the absolute edge," said Nunez. "I think we're going to be doing that in the race as well. And we're prepared to do that.
"We've been struggling for the past three year," Nunez explained. "It's been a challenging three years and now it's really showing that we used that time to practice, like practicing pit stops. That's so important plus every other little piece of the puzzle that we needed to get right. We put in the work, and it's showing right now. We're really going to show what we're made of tomorrow in the race."
Mazda's Freedom Autosport Earns Sixth-Straight Win at Mazda Raceway Laguna Seca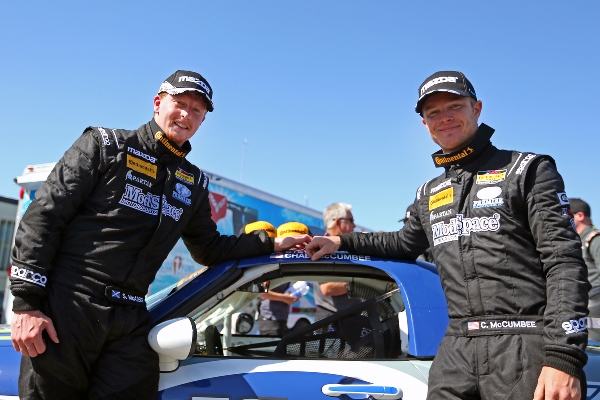 In today's Continental Tire SportsCar Challenge race, Mazda's Freedom Autosport team achieved something they'd done five previous times: win a race at Mazda Raceway. Even sweeter for the ST-class team was finishing first and second for the fifth time.
Defending series champions Chad McCumbee and Stevan McAleer put together a dominating performance, leading almost the entire race in their ModSpace/Spartan Trailers No. 25 Mazda MX-5. The only car that could keep pace was the No. 26 Mazda driven by Liam Dwyer and Andrew Carbonell. Carbonell was trying for his fourth straight win at Mazda Raceway, but was content to continue a string of podium finishes that date back to 2009.
Idemitsu Mazda MX-5 Cup presented by BFGoodrich® Tires Makes Debut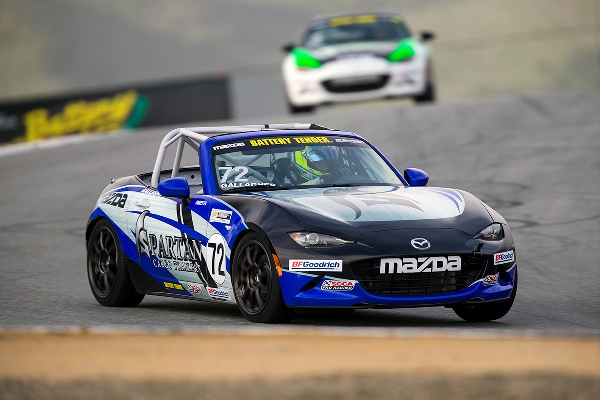 The new-era MX-5 Cup series had two races this weekend featuring 40 brand-new race cars. The races didn't disappoint, with fierce racing from start to finish, resulting in spectacular finishes. Friday's opening race saw Pat Gallagher win for McCumbee-McAleer Racing, followed by defending series champion John Dean III of Sick Sideways Racing. In today's race, Auburn University engineering student (and Mazda scholarship winner) Robby Foley won his first MX-5 race by out-dueling Dean Copeland and Dean II.
Mazda Motorsports
Mazda Motorsports boasts the most comprehensive auto racing development ladder system of any auto manufacturer in the world. The Mazda Road to 24 program offers a number of scholarships to advance drivers up the sports car racing ladder, beginning with the MX-5 Cup series and culminating with the Mazda Prototype team. The Mazda Road to Indy is a similar program that includes Mazda-powered categories of USF2000, Pro Mazda and Indy Lights. In grassroots road racing, more Mazdas race on any given weekend in North America than any other manufacturer. Mazda is also the title sponsor of the renowned Mazda Raceway Laguna Seca in Monterey, Calif. Follow all of the latest news at MazdaMotorsports.com, @MazdaRacing on Twitter, and MazdaMotorsports on Instagram and Facebook.