For the last four years, Mazda Factory Driver Andrew Carbonell has piloted the Freedom Continental Tire SportsCar Challenge machine with several wins to his name. Last season, he contended for the ST championship through the final race. Not only did he finish second in the championship, but he and Mazda factory driver Tom Long were the lead test drivers to develop the 2016 MX-5 Cup Spec. With thousands of miles behind the wheel of the 2016 MX-5 Cup car, we have turned to Mr. Carbonell to share his learnings about how to maximize the driving performance. We believe you will find his tips to be quite helpful.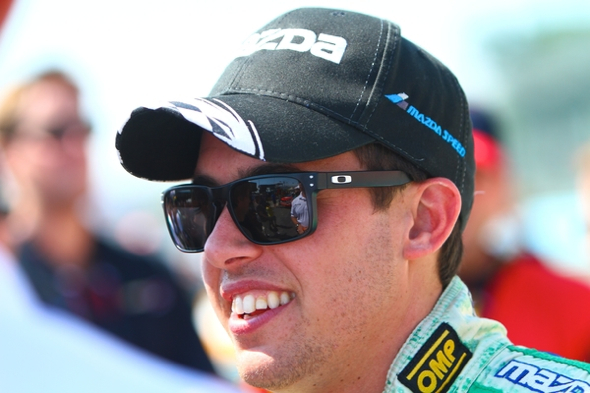 Smooth is fast.
You may have heard this term once or twice in racing school and I can assure you this stays true to driving the 2016 Mazda MX-5 Cup car. After extensive spring and shock testing both on the track and through computer simulations, Mazda has created a package that produces incredible amounts of cornering grip. Make sure you take advantage of this and keep the car balanced to make the suspension work as efficiently as possible. The smoother you are, the more your tires stay in contact with the road, the more speed you will be allowed to roll.
Maximize entry speed.
The suspension geometry of the new ND (2016) Miata is completely new and redesigned. The rear alignment actually goes to toe-in as the suspension compresses under load, unlike the older generation cars which would tend to toe-out. This toe-in causes the chassis to create rear grip as it compresses into and through a corner, which is nothing short of confidence inspiring for the driver. So, go ahead and carry that entry speed into the corner and don't be surprised when the car stays settled and asks you to carry more speed next time! (But work up to it, of course!)
Use the excellent torque.
Mazda's new SKYACTIV-G 2.0L motor brings two key attributes to the race car: added efficiency and torque. The added torque has opened up new ways of driving this Miata MX-5 Cup car around the race track. In years past, we became accustomed to the high revving motors that had to be driven up in the rev-range to make power and ultimately lap time. The new car with its more usable torque band makes it possible to use the "higher gear" in some corners, which in turn translates to rolling more entry and corner speed. All good things!
Take advantage of the draft.
If you are going to be racing the car in its MX-5 Cup Spec (e.g., no hard top), then plan on the draft being a big part of your strategy. Considering these cars are roadsters and will be running without a hard top, they tend to punch a rather large hole in the air, making it possible for you to easily draft up to the car ahead of you and vice versa.
Enjoy the BFG rains.
It's raining? Big deal! Put on these rain tires and be prepared to drive them nearly as hard as you would the dry tire. After extensive testing, one of the most impressive moments was running these tires in wet conditions. They did a great job of separating water between the track and the tire, therefore creating incredible amounts of grip. Obviously, every track is different, but don't be surprised if you can run the "dry line" even while the track is still wet.
Use the AiM data system.
The data doesn't lie! There is nothing like having a true standalone data logging system in a car. Considering the 2016 MX-5 Cup car comes with a full AiM data system and dash installed, you would be handicapping yourself not to use it. You can use it on track for everything from notifying you of any temperature alarms, to providing you with a predictive lap time (predicts what your current lap time will be), which will allow you to judge whether a different approach to a corner was worked. Also, once you get off the track, you can download your data to a computer and analyze more thoroughly. The basics to look at would be your RPM, MPH, throttle position and brake pressure. With these four basic readings you can get a very good idea of what is happening throughout the lap.