– Both cars finish strong in the 12-Hour race –
IRVINE, Calif. (March 20, 2016) – At the 64th running of the Mobil 1 12 Hours of Sebring, the Mazda Prototype team finished with both Soul Red cars in the top-10 for the first time in the brief history of the program. Finishing sixth (which matches the team's best-ever overall finish) in the IMSA WeatherTech SportsCar Championship race was the No. 55 Mazda Prototype with drivers Tristan Nunez, Jonathan Bomarito and Spencer Pigot. The trio finished on the lead lap after a punishing race in the heat combined with sporadic rainfall. The No. 70 Mazda was the first car one lap behind to finish eighth overall with drivers Tom Long, Joel Miller, Ben Devlin and Keiko Ihara. The Japanese driver Ihara made her first start with the team. The dual top-10s mark the first race finishes for the new Mazda MZ-2.0T racing engine.
The day began with the No. 55 in the fifth starting position, the best qualifying effort in the program's brief history, and the 70 car in 7th place. The race was slowed by ever-changing weather conditions, which included a two-hour, 26-minute stoppage of the race due to heavy rain and lightning. Prior to the delay, which took place at roughly the three-hour mark of the 12-hour event, the Mazdas went through a series of difficulties that left both cars multiple laps behind in 23rd and 24th positions. For the No. 55, two pit lane penalties plus an off-track excursion was the early trouble, causing them to frantically fight for the remaining hours. A similar fate befell the No. 70, dropping back after a lengthy spin and a pit lane penalty.
Mazda Prototype Driver Quotes
Jonathan Bomarito, Car No. 55: "The 12 Hours of Sebring is a grueling race. We can take lot of positives away, but a lot of learning as well. I'm really proud of the team, and we're already looking to how we can improve those things we did wrong. We need to improve, to keep what we did right, and keep building as a team. This was one of the harder races I've ever been a part of with the changing conditions – almost lap by lap. The weather was a constant unknown, and it's kind of a bad feeling inside the car. There were treacherous conditions out there. It was really difficult."
Tristan Nunez, Car No. 55: "It's an emotional finish. It's been such a tough three years and to have a finish like that on the lead lap is a dream come true for me. Being in the top class and finishing that well against guys like [Christian] Fittipaldi and [Rubens] Barrichello. It's surreal. It was chess match to decide dry or wet [tires]. It's crucial to have a good relationship between the engineer and driver so that you can make decisions like that on the fly. We did a good job making the right choices."
Spencer Pigot, Car No. 55: "It was a pretty crazy race out there. Lots of drama and excitement all through the race. It was cool to have my first experience in this race with Mazda. I went through quite a bit of everything from wet to dry, from day to night. I definitely got to experience it all. Very happy to be a part of this group and hopefully I'll be back for more."
Joel Miller, Car No. 70: "We tried almost all of the race to get that last lap back, and we ran with the leaders, right on their heels. We managed the weather. It was wet and we had very good pace in the rain. It was the typical Sebring. It was pushing and shoving to get through traffic. Getting our laps back was the main thing today. It's something we can build upon for down the road. We're looking forward to Long Beach, which is the next race."
Tom Long, Car No. 70: "I had a lot of fun at the start. It was exciting in the dry and amazing to think that we were going to go through so much adversity in the wet soon after. Managing the heat is something that all race car drivers are working toward. Knowing Sebring is traditionally a very hot race, the physical training that all of our drivers do is all high-intensity, high heart-rate with extended time in the heat to train these conditions. It certainly paid off, and I felt very fresh coming out of the car once I cooled down a bit. Overall, an exciting day, and we overcame a lot of adversity."
Ben Devlin, Car No. 70: "To come away with the results we have, we were really pleased. I think we stayed on it, we kept the nose clean. The new engine package was very quick in the rain, and we really showed the pace to match the leaders. It's always fun [to race]. It doesn't get any better, does it? OK, we had a little rain there, but it doesn't get much better for me."
Keiko Ihara, Car No. 70: "I never had a race this exciting. There were many yellow flag cautions, a crash and a spin. When I joined the team in December, we held a shakedown of the new engine and this race is the first time to finish with the engine. I'm very happy to be here and to drive with very nice teammates."
Mazda Prototype Lites and the Continental Tires SportsCar Challenge Results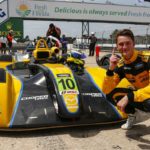 Two other racing series with Mazda competitors competed at Sebring. The Mazda Prototype Lites Series presented by Cooper Tires saw the two races won by young teammates. In the first race, Clarke Toppe, who finished second in last year's championship, won, while his teammate Austin Versteeg grabbed his first career victory in the second race. Toppe holds a slight lead in the point standings.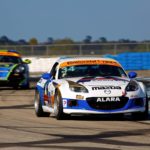 Four Mazda MX-5s contended in Friday's race for the Continental Tire SportsCar Series. Defending series champions Chad McCumbee and Stevan McAleer paired to finish fourth in the ST class for Freedom Autosport. ALARA Racing (pictured left) with drivers Justin Piscitell and Christian Szymczak finished 11th, while Danny Bender and Britt Casey were 12th. Brake failure early in the race meant Liam Dwyer and Andrew Carbonell finished 22nd.
Mazda Motorsports
Mazda Motorsports boasts the most comprehensive auto racing development ladder system of any auto manufacturer in the world. The Mazda Road to 24 program offers a number of scholarships to advance drivers up the sports car racing ladder which culminates in the Mazda Prototype team that races in the top level of IMSA sports car racing in North America. The Mazda Road to Indy is a similar system in open-wheel racing, which includes USF2000, Pro Mazda and Indy Lights racing categories with Mazda power. The new MX-5 Cup car makes its debut in 2016, with affordable, turnkey race cars. In the grassroots categories, more Mazdas road race on any given weekend in North America than any other manufacturer. Since 2000, Mazda has been the title sponsor of Mazda Raceway Laguna Seca, a race track operated as a non-profit organization in support of local charities and civic organizations.
Mazda North American Operations is headquartered in Irvine, Calif., and oversees the sales, marketing, parts and customer service support of Mazda vehicles in the United States and Mexico through nearly 700 dealers. Operations in Mexico are managed by Mazda Motor de Mexico in Mexico City. For more information on Mazda vehicles, including photography and B-roll, please visit the online Mazda media center at www.mazdausamedia.com.