Racing is full of multi-generational families. Usually it's a tale of "like father, like son." In the case of Debbie Kerswill, it's the daughter continuing where mom left off. We spoke with Debbie about her experiences.
In 2001, Debbie Kerswill was a minvan-driving mom when a friend took her to an SCCA autocross challenge event.
"I co-drove my friend's Audi and I was the slowest driver out there," Debbie said. "I was terrified and filled with adrenaline, but I survived and I was hooked!
"In 2002, I bought a Subaru WRX and became quite involved with local autocross and Audi track events. It was an exciting time and I was gaining skills and knowledge about performance driving. My first SCCA Solo National Championships was in 2003 as a tire warmer, and it opened my mind to a new level of competition. I finished third in my class. I vowed that I would go back and it became a dream to win a class one day.
"During the next couple of years, I started bringing my daughter Rachel to local events. I was chief of registration and had Rachel help me at the registration desk. In SCCA autocross, we can include children as young as 12 years old as a passenger, so she joined me on most runs in the right seat of the WRX and later, my Mazda RX-8. She traveled with me to out-of-town events, and joined me at the 2004 Nationals. She was 13 years old at the time, so she served as a flag bearer during the National Anthem at the opening ceremonies.
"The years 2004 and 2005 saw some setbacks. After a rear-end collision, the WRX was totaled and I needed physical therapy. After that, I was at an SCCA event at Thunderhill to learn flagging. While walking through the paddock a friend pointed out a 4-seater sports car, and it was love at first sight! This was the new Mazda RX-8, and when I got home I made it my mission to learn more. I bought my first Winning Blue Mazda RX-8 and learned to compete in this fun and sporty rear-wheel drive machine until the fall when a container truck drove over the car. It was a total loss and I was heartbroken. A few months later, I found a new 2004 Velocity Red Mazda RX-8 sitting in a dealer lot and bought it. I figured, when you have a winning hand why change?
"As soon as Rachel turned 16, she worked hard at learning how to drive a stick-shift. Before she thought she was ready, we had her behind the wheel of the RX-8 at a Reno region Solo event. I remember that she got to the start line and wanted to step out of the car and run away. But she persevered, even accepting my coaching as I yelled at her to, 'hit the gas, hit the brake, turn!'
"She continued learning and also grew a competitive spirit, comparing how she did against all of the other Novice drivers that year. I couldn't have been more proud when she was awarded our region's Ladies Novice Award in 2007, Ladies Rookie of the Year in 2008, and Most Improved Ladies Driver in 2009.
"In 2008, Rachel spent her SCCA Solo Nationals rookie driver experience as my co-driver. Even though neither of us did well enough to earn a trophy that year, it was a learning experience as we sat by our car in impound, dejected with our performance.
"That all changed in 2009 and again in 2012, when I won championships in my friend's Mazda RX-8, then in 2014 and 2015 when Rachel won multiple SCCA National Tour events culminating with Championship wins in what is now her RX-8. The very same RX-8 I bought back in 2005.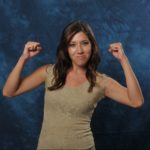 "Was it wrong of me when, for so many years ago I told her, "Put away your homework until later, you have to come out to autocross this weekend"? I think not. She's got the talent, the drive to win, and she's a champion."