2014 Mazda Road to 24 Scholarship driver Joey Bickers is back racing after taking a one-year hiatus. So we caught up with him to learn how it was to be back behind the wheel of a race car after such a long break. His lessons are illuminating and results impressive.
First, congratulations finishing third this past weekend at the Circuit of The Americas in the Pirelli World Challenge in your second race (see above). We know you've been out of a race car for more than a year; when and where was your last event prior to COTA?
You're right. My last event was at Road Atlanta at the end of the 2014 Mazda MX-5 Cup season, so it has been a while.
Making your return this past weekend, what were your expectations?
I was not really sure what to expect; I was going to be at a track I had never driven on. I know there would be some difficulties, but I was not certain what exactly; I just could assume or guess.
Now that you've completed your first event and you don't have to assume, what was the most difficult part to re-acclimating?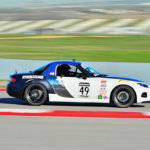 Since I hadn't been behind the wheel for over a year, I had to focus on getting myself back up to speed; at first I wanted to pound laps. But, I had to focus on getting comfortable with the limit of the car, racing with the other cars on track, and improving each corner. When you are on the track, you can be so consumed by trying to drive the car fast that you forget about other things such as feeling exactly what the car is doing on the limit so you can make the correct set-up adjustments. Setting up the car throughout the weekend was the number one challenge as it was critical to get right.
You must be honest with yourself as to what the car is doing through the corner, then be able to relay that information to your engineer or whoever sets up your car. With the ability to do that part of your job, you're setting yourself up with the best chance of having a car that is able to get you the result you want. Once I came to terms with that, my results began to improve, but the hard work continued.
We can understand the challenge to focus on fine-tuning the set up each session when all you want and perhaps need is pounding out laps. How did that effect the rest of the driving?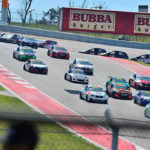 You're right. When you try to do it all in order to keep up with your competition, I found I was a bit slow to regain my consistency on track. It is one thing to be able to do a single lap where you truly got the most out of the car; it is another thing to be able to do that lap during the whole race. You have to outwork the competition every lap if you want to be in the front.
To be consistent you need to first find your limit in every corner, maximum braking capability, line choice, commitment to throttle – everything has to be 100 percent effort. Make sure you are honest with yourself and think about what you are doing; ask yourself where you have room to improve; focus on those areas until they are 100 percent correct. When you reach the limit, you then have to commit to exerting that maximum effort every single lap.
Do you have any final recommendations for those who have been out of a race car for a while?
Even after a year off, some things stay with you, but some things you have to go out and find again, or maybe you're discovering them for the first time in your career. Whatever the case, ensure you realize what you are doing wrong, and focus on fixing it. Racing is all about working on your weaknesses, correcting them so that you have a good overall package when it counts. My advice to racers coming back after a long period of time out of the car would be to pay attention to what you're doing and how you can come back stronger than you were before. With that attitude you can surely reach the level at which you left off at, if not exceed it.