In the past eight years, the chances are pretty high that if you lived in or near Salt Lake City, a slight and polite youngster has knocked on your door, selling gift certificates for the Rodizio Grill (a small but growing chain of Brazilian-style restaurants). That youngster is Bruno Carneiro, who began going door-to-door at the age of eight to finance his kart racing. He traverses neighborhoods four to five nights a week, averaging nearly 400 homes. Selling the restaurant certificates (of which he keeps a percentage of each sale) continues to this day as he moves up the open-wheel motorsports ladder.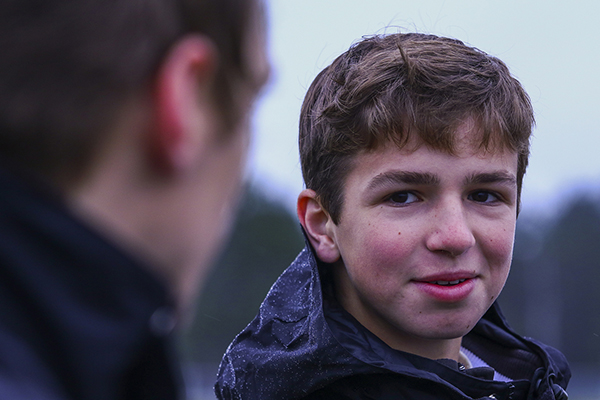 Carneiro is now 16 years old, and he will be in a Pro Mazda car this season with Ian Lacy Racing in the Formula Car Challenge, a regional open-wheel series on the West Coast. The series will send its champion to the year-end Mazda Road to Indy Shootout. The winning driver at the Shootout will win the $200,000 scholarship for a season in the USF2000 Series.
"I'm very excited to move up to the Pro Mazda class from Formula Mazda," said Carneiro, via phone after a day of high school classes. "It's a big speed difference, which means a lot more work. There is a lot more downforce, bigger tires and higher speeds, so I've been working hard with J.R. Smith, my trainer. I've been running and lifting weights so I'm not that scrawny kid that I was!"
Carneiro used his fleet of karts to start the Bruno Carneiro Karting Academy, where he tutors kart racers and even offers free sessions to those who can't afford their own karts. He has also been making appearances at local schools and businesses as a motivational speaker, emphasizing safe driving and also teaching about dealing with rejection from door-to-door sales efforts.
Last year's success in Formula Mazda was enough to earn him a trip to race in China, where he finished on the podium in a prestigious FIA Chinese Formula 4 event. The Utah Region championship with NASA Pro Racing plus his off-track performance earned him an invitation to last year's Mazda Road to 24 Shootout, where he drove a Mazda MX-5 Cup car for the first time.
"I learned a lot from the #MRT24 Shootout, but not all of it was about driving," Carneiro said. "I learned a lot on the business side. We have several proposals out there now during the off-season trying to use what we learned. It was great atmosphere and I loved the surroundings of the event but the big thing for me was the things I learned about business and partnerships. The new MX-5 Cup car was so much fun to drive, and it was a great environment with the other drivers and the Mazda staff."
Carneiro's season kicks off March 18-19 at Mazda Raceway Laguna Seca.
"I've not been there – just on the iRacing sim[ulation], so it will be fun," said Carneiro. "The new class will have more cars and tougher competition. There will be other classes of open-wheel cars on-track during our races as well, so I'll be lapping slower traffic. It's like the 24 Hours of Daytona with different classes, so I think that will help me learn a lot about passing cars."
Beginning his first year in the new car, Carneiro's goals aren't modest.
"My first goal is to win the championship in the Formula Car Challenge and get an invitation into the Mazda Road to Indy Shootout. My big goal is to win the MRTI Shootout. I think I could do well and it would be great to move up to USF2000 next year."
You can follow Bruno's season at brunocarneiromotorsports.com, or on Twitter at @BrunoRacing21. The Formula Car Challenge Series is on Twitter at @FormulaCar.
Related Content:
ABC4 Real Sports interviewExposure opportunities (but contact Bruno for other value creation opportunities)