When one of our Mazda Road to 24 stars wins the Rolex 24 at Daytona in his first trip, you have to find out what he learned. With this being Kenton Koch, you won't be disappointed.
How does winning your first Rolex feel?
It's pretty unbelievable. To think that just three years ago I stopped in a Rolex store, gazed at the Rolex watch, tried it on and remember hoping that one day I would have the opportunity to win one someday. And now, the dream has come true; I still cannot believe I was lucky enough to win one and be wearing it right now. I plan on wearing it the rest of my life along with this smile on my face. I will never take this for granted.
Congratulations again, Kenton, you have earned it. So what was the toughest part of the 24-hour event itself?
The toughest part was not the racing itself, but calming myself down right after making my mistake on track – one that I don't want to re-live in my time of glee. But immediately following it, I worked to get my emotions in check as did my crew. My crew did a great job supporting me mentally and getting the car back on up to speed. Though I have been fortunate to have kept the car clean for the most part throughout my career, and pride myself on this, one has to stay grounded in all situations – good or bad. You need to stay mentally strong immediately after an incident so you don't compound the issues on track; that's the short term goal. If other people perceive you as mentally weak, that can have devastating impact on your career long-term. What can be just as demoralizing for everyone involved is if you make that same mistake again soon after. That's when you can experience both the short-term and long-term negative effects. So, you'd better keep your focus and learn from your mistake immediately.
Certainly a 24-hour race will test you mentally. How long was your longest stint and what was the most challenging aspect?
There are certain times of the race that drivers are more hyped than others. When you tether those times with other challenging aspects, such as exhaustion, it can be tricky. I drove from about 9 PM to 12:30 am in my first stint. It wasn't easy. There was quite a bit of mayhem at that time in the race, with plenty of people battling. It starts to calm in the middle of the 24 hour race, but we hadn't gotten there yet. In a time you are exhausted, you really have to stay on your game to not make a mistake. Fortunate for me, I engaged in a fantastic battle the last part of this long stint that kept me primed. I was on fresh tires and was catching Renger van der Zande of Starworks Racing in his PC car. In my pursuit of catching him at the time, I posted the fastest race lap for PC cars. I was pushing it. Once I caught him, we traded positions a couple of times. He is a very aggressive, but very clean. I was eventually able to get by him and keep in front, using the traffic to my advantage and pull away. At this end of this stint, you could say I was tired.
You and your team pulled a three lap advantage toward the end of the race. Tell us about your strategy to gain the advantage?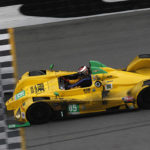 In endurance racing, it is important to take care of your tires while also putting together quick, consistent times. Granted, times can be consistent if every lap has one slide. So consistent corner to corner is key. Last year, in the Mazda Prototype Lites car, it taught me to do that. The tires fell off quickly if not managed, so I had to focus on this balance and precision. Taking this learning lesson to the 24 hour was more helpful than I could have realized. With multi-class racing, you have to get through traffic. Due to the speed differences, the changing track conditions and drivers, you have to be wise in how and when you do it. For those who are able to manage this well, the dividends are huge. For those who get stuck behind slower cars lap after lap, it is devastating to the overall time. Precision and balance.
Thank you, Kenton, for your time and support of Mazda.
I'd like to add one more thing, if that is okay? I want to thank Mazda, the entire team, for giving me this opportunity to race at the Rolex. I've come up through the Mazda Road to 24, following each step methodically. To have gotten where I am is all thanks to Mazda, JDC Miller Motorsports, ALARA Racing, Skip Barber, my family, and everyone who has supported me along the way. Thank you all.
Tips from Kenton Koch:
Drive Value to Partners at the Track
Race Prep: Kenton Koch's 10 Tips
Kenton Koch on Driving Technical Corners