In her first trip to SCCA's Tire Rack Solo National Championships, Tamra Hunt walked away as the National Champion in C Street Prepared Ladies (CSPL). After all runs had been completed, she finished more than three seconds ahead of a pack that included three previous National Champions. So we caught up with her to ask her how she got so quick, so fast.
It's clear that competition runs in your blood. Can you tell us about how you have honed your craft so quickly?
I actually just started autocross two years ago, and I didn't have any previous competition driving experience. I would say that there were three main factors that helped me get where I am today in racing: 1) My background riding horses growing up; 2) My mom always telling me that I could do anything I set my mind to; and 3) The support of the solo community.
How did horseback riding help prep you?
Growing up, I frequently competed in various gymkhana events (basically autocross on horseback), and later the more finessed sport of reining. Knowing how hard I could push my horses physically and mentally without pushing them over the edge was key. Racing cars is not so different, since we are always trying to find the limit based on the surface, the temperature, and the stickiness of the tires, forcing us as drivers to adapt constantly and quickly.
Okay, we will concede that your understanding of racing line and adaptability come from horse racing, but what was it like transitioning from reins, a saddle and stirrups to a steering wheel, race seat and pedals?
Alongside the horses, I had always had an interest in cars. My first car was a Miata, which started my love of Mazdas, especially Miatas. One day my boyfriend Andrew and I tried an outdoor event held at a go-kart track in Oregon and had a blast; this was just before moving to Connecticut for work. We had so much fun in that little Miata, we decided to haul it across the country with us. That March 2014, we signed up for a rookie autocross school held at a local Connecticut club – Fairfield County Sports Car Club (FCSCC). My first year of autocross was spent primarily just with FCSCC running our stock Miata. I owe a lot to some of the members from FCSCC for their support and instruction in our first year of autocross.
Toward the end of our first season autocrossing, we signed up for an Evolution 1 Driving School, where Billy Davis (multi-time national champion, pictured to the left) was my instructor. I learned a tremendous amount that day; I recommend to all levels of drivers to take a school. I don't believe that seat time alone is enough because it is tough for us to see our own mistakes. Having an instructor point out improvement areas is critical to advancement. At the end of the school, Billy generously offered to loan us a front sway bar if we went up to the next SCCA New England Region autocross, one of the last events of 2014. That was our first trip to an SCCA event; I was hooked. Little did I know that less than a year later, Billy would become a great friend and mentor, and that I would have the opportunity to drive the Davis' car.
So horse racing + track time + coaching, and we know some natural talent, to say the least. Tell us about your first season in 2015 and claiming a Solo National Championship?
2015 became a whirlwind of diving head first into national events and driving many different cars. I counted recently, and realized that I jumped into 18 different cars during the 2015 season, from FWD, RWD, AWD, front engine, mid engine, street tires, and Hoosiers (thank you to everyone in the Solo community that welcomed me to drive their cars!). Of those, I drove four different cars at national events across L2, L3, and CSPL, never finishing off the podium in the six national events I raced. Driving so many different cars forced me to adapt almost every time, never really knowing what I was going to be driving. It was fun; I met some awesome people and made some great friends. Autocross really is a fantastic community.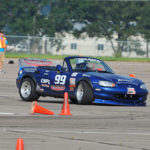 The end result brought me to nationals driving two different cars – one in STR trim (owned by Tim Kong) for the Pro Finale and one in CSP trim (owned by Bob, Billy, and Pam Davis, pictured left) for Solo Nationals. I had limited driving experience in both cars and was up against the best ladies drivers in the country, including many previous national champions. The ladies of autocross are all incredibly supportive of each other, and they welcomed the newbie (me) with open arms, followed by many congratulations after the results were posted. I could not ask for a better group of competitors and friends.