"I always pray before going out on track, wishing luck and safety for all drivers; it's my pre-race ritual, you could say," comments Ashton Harrison… "My racing goal: I would love to race the Mazda Prototype in the WeatherTech SportsCar Championship before I'm 25."
At 21, Harrison is a full-time driving coach for the Porsche Experience Center in Atlanta, Ga; in her spare time, she coaches other racing enthusiasts at other tracks. And in 2016, she joins the Idemitsu MX-5 Cup, turning pro.
So how did it start for Ms. Harrison? "In the beginning, it was my dad, grandmother, crew chief and I. We've always been racing fans. Before I started driving in Spec Miata, we would go to Petit Le Mans races at Road Atlanta every year. I always admired the Mazda MX-5 Cup drivers, thinking to myself, 'This is absolutely awesome.'
"I started my racing career in the summer of 2012. The next summer I applied for my NASA racing license and competed in most of the local Southeast events. After my first race, I was hooked! Although at the time it was just practice for me, it was the most adrenaline pumping time of my life. I finished middle of the pack in the beginning of the season, but every race I improved.
"In 2013 I was running a 1990 1.6L Spec Miata. We bought it from a previous racer; the car was prepped when we picked it up. At that time, the learning curve was high enough that we wanted to focus on car control and how the racing atmosphere really worked. I started working with my current race team, Racing Analytics; they traveled with me helping with car setup and adjustments."
In January of 2015, Ms. Harrison bought a 2002 1.8L Mazda Miata. This time, she and her team built it from the ground up; added the roll-cage, seats, gauges, fire safety, three sets of wheels, paint, transmissions/engines, and more. Although for most racers that's normal, Ms. Harrison reflects that "It was more than exciting for us because this was OUR car that we built ourselves." At this point, she was running all Southeast races with SCCA.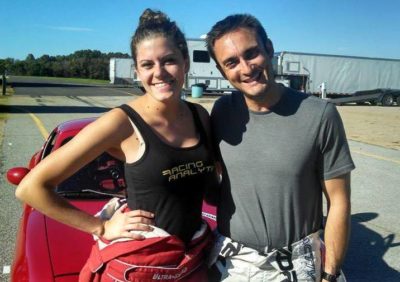 Knowing she wanted to be a professional, she would need to learn from one. With the help of Shea Hughes from Racing Analytics, they sought out Mazda factory driver Tom Long. "He has been nothing but a blessing to us," exclaims Harrison! "My skill set skyrocketed when I first started working with Tom in 2013 at Virginia International Raceway. I was driving my 1.6L SM at the time and he jumped right into the flow of things. Within a few laps, I had shaved seconds off of my lap time. Tom's approach to breaking down the course helped me manageably consume all the details. When it comes to racing, it is important to comprehend without getting overwhelmed by a 'data dump.'"
Knowing how important preparation is, we asked Ms. Harrison to share her insight: "I always review video and data every day for at least a week before each event, pinning down every little detail of the best lap I've driven there. For the tracks I am not familiar with, I focus on prep with the iRacing platform. Also, I keep in shape running with my four dogs as well endurance train. You've got to do it all."
Harrison will compete in the MX-5 Cup for the first time when she tackles Mazda Raceway Laguna Seca during rounds 1 & 2 of the 2016 Idemitsu MX-5 Cup April 28-May 1. "My plans for next season are to finish at the top," Harrison explains. "I always strive for the best finish I can while still conserving the car. I learn every day in the racing industry and I'm eager to see where it takes me in 2016. With the absolute best family and crew around, we can make it anywhere.
"I had always dreamed this day would come, but never thought it would; I'm just a small town girl with a dream of being a race car driver in a male dominated sport. However, I have found my spot in the sport and plan on keeping it."
Follow Ashton Harrison on Twitter: @aharrison03 and via her website: www.ashtonharrison.com