Fast-growing motorsports company expands its Mazda-based offerings.
"You can blame it all on Spec Miata, in a way," says Tom Martin, CEO of Winding Road Racing. "We formed our team in 2010 to run the week-long Targa Newfoundland tarmac rally. To qualify for Targa, our drivers – me included – had to have road-racing licenses. The simplest way to do that was to rent Spec Miatas and go to SCCA school. So, we did," says Martin. "The trouble began at those schools, because we realized that we absolutely loved racing Spec Miata. We started thinking that Targa was great as a bucket-list event, but we could sense that road-racing was a life-long pursuit," he notes.
Winding Road Racing did go to Targa Newfoundland in 2011, where they won their class and had a great time, in a specially prepared BMW E30 M3. Martin says "We kept racing Spec Miata, while we built our Targa car. For club racing, we were lucky enough to partner with SM expert (and Spirit of Mazda winner) Dave Wheeler. Dave showed us the benefits of an arrive-and-drive type of program."
"At about the same time, the effort began to build Circuit of the Americas in Austin, where I live," Martin observes. "Several club tracks had also popped up in the prior decade, so that central Texas was quickly going from racing wasteland to racing Mecca. I started wondering if the kind of services I had experienced in Spec Miata would be attractive in Texas."
This was more than a random thought. Martin already owned WindingRoad.com, an automotive review and listing site. And he had an extensive background in Internet marketing, having been vice-president of worldwide marketing for Dell Computers. "Racers said that their experience in club racing was that the people were great, but much of the process was rough around the edges. The steps weren't obvious. The opportunities were under-communicated. Customer service was sometimes superb and other times lacking. Product information was scattered. Costs were tough to figure out," Martin says.
"Road racing is often compared to a drug. I don't know, but I think people who say that mean that road racing is an unusually compelling and motivating experience. That's certainly how it is for me, and when you have that kind of experience, you want to share it. Our idea with Winding Road Racing is to be a full service racing business. We say we offer 'What You Need To Go Faster'. And our goal is to make that service available in a welcoming way that everyone from novices to pros can utilize," comments Martin.
Winding Road Racing opened its online motorsports safety and equipment store in 2013. That was quickly followed by its Austin retail store later that year and a Los Angeles store in 2015. The company also appears at around 80 club racing events each year, offering helmet fittings and custom suit measurement as well as a variety of safety products and tools.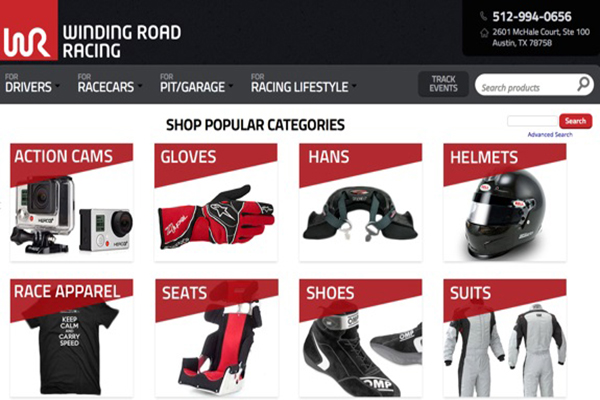 "To offer customers everything they need, we also provide full race car building and maintenance services in Texas. Our focus is on Spec platforms – Spec Miata, Spec E46, Spec Z and the Mazda-based Elan NP01," Martin says. "We pair that with race engineering – trackside transport, maintenance and driver coaching — when that is what the customer wants."
Martin explains the team's plans for 2016, remarking, "We were looking for a series to showcase our race engineering. MX-5 Cup has strong drivers and teams. The drivers we knew who wanted to take the next step thought those factors, combined with manageable costs, made MX-5 Cup ideal. We knew Mazda Motorsports would provide excellent support, which sealed the deal."
The team has two MX-5 Cup cars on order for the 2016 season. Winding Road Racing director of driver development Corey Rueth, who was the 2014 NASA Spec Iron eastern champion, will drive one car. Aerospace engineer Tom Martin III, who won the E0 class at the 25 Hours of Thunderhill in 2013 with Winding Road Racing, will drive the other.
The 2016 Idemitsu MX-5 Cup series kicks off April 28-May 1 at Mazda Raceway Laguna Seca.
or more information on Winding Road Racing's products and services visit WindingRoadRacing.com. Follow Team Winding Road Racing's progress and more.