Rocket Engineer steps up to the 2016 Idemitsu MX-5 Cup.
During the week, Tom Martin designs rockets. As an aerospace engineer at Space Exploration Technologies (SpaceX), he has worked on the capsule for re-supply of the International Space Station, large-scale structures for communication satellite launches and lift vehicles for upcoming NASA missions. "When we're going to geo-synchronous orbit, the acceleration forces are pretty amazing and we need to get up to 17,000 mph, so working with speed and pressure is kind of a day-to-day thing," says Martin. "But honestly, being in a race car is much more exciting. After all, I'm not on the spacecraft and anyway, the flying is done by computers."
Martin has been interested in racing since he was a child, and got his start in karts as a teenager. He noted, "We were lucky enough to have a local kart track that had lighting to allow night driving. So, I would come home from school, do my homework as fast as I could and then my dad and I could go to the track after dinner."
When he went to college to study mechanical engineering, Martin was able to continue racing. He says "I went to Cornell and quickly discovered that they had a Formula SAE team. In FSAE, universities around the world each design an open-wheel race car and then they run them in a global competition at the end of the year." Martin was on the Cornell FSAE team for four years, eventually becoming chief engineer and one of the team's drivers. "FSAE was my first taste of driving a really fast car. With only 5 lb/hp and a very short wheelbase, I had to do a lot of work on my driving skills," Martin comments.
"After college, I was working long hours at SpaceX, but I kept thinking about how I could get back into a race car. Then, on a bit of a whim, my dad and I decided to run the Targa Newfoundland tarmac rally. We had to get road racing licenses to do that, so I ended up in a Spec Miata," he says. "We fell in love with Spec Miata because the competition is so much fun and because you can learn a lot."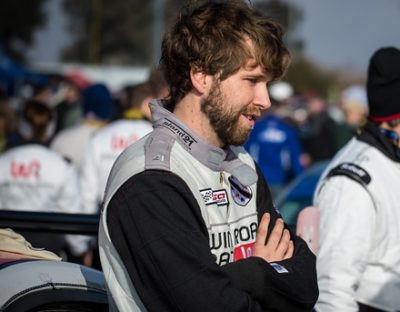 Martin has continued in Spec Miata, while trying other cars like a Radical SR3 and a Porsche GT3 Cup. "I realized I wanted to participate in an organized series with good drivers. But I also wanted a manageable season, given my work commitments," he says. "The 2016 Idemitsu MX-5 Cup looks ideal with a great new car, experienced drivers and a six-event calendar. I'm also psyched that Winding Road Racing includes driver coaching (Corey Rueth, Mazda Race of NASA Champions pole sitter and podium finisher) and data analysis as part of its value package. I need to learn more and you just can't do everything yourself," he observes.
Teamwork is also a big element of racing to Martin. "I've loved endurance racing for a long time and Allan McNish is a hero of mine, so I was thrilled in 2013 to drive on a team running the 25 Hours of Thunderhill in a Boss 302. We won our class, which was great, but what really sticks with me is the fun of working with sixteen other people, for months, to make it happen," he says. "Your team is like family, which to a degree was literally true at Thunderhill, since my dad, mom and sister were also on the team."
Martin expects that family atmosphere to continue, since his father is the CEO of Winding Road Racing. He reflects, "My dad is very serious about the business of racing, but he knows the experience and the relationships are the most important thing. I think he gets that from my grandfather, who was heavily involved in the organization of the Can-Am during its glory days."
"I can't wait for our cars to arrive and to begin practicing in the real thing, rather than a simulator. I'm looking forward to working with Corey Rueth, our driver development leader, as well. And, I know those first races will be interesting and a great learning experience," Martin says.
The 2016 Idemitsu MX-5 Cup kicks off April 28-May 1 at Mazda Raceway Laguna Seca.
For more information on Winding Road Racing, which supplies racing gear and equipment, race car services and driver education, see WindingRoadRacing.com. Follow Tom and Team Winding Road Racing's progress and more.