If things had gone a bit differently in his life, instead of racing sports cars, 20-year-old Tristan Nunez might have spent his athletic career on a tennis court. But, fortunately for Tristan and Mazda race fans, he took his first ride in a go kart, at age eleven, and was hooked.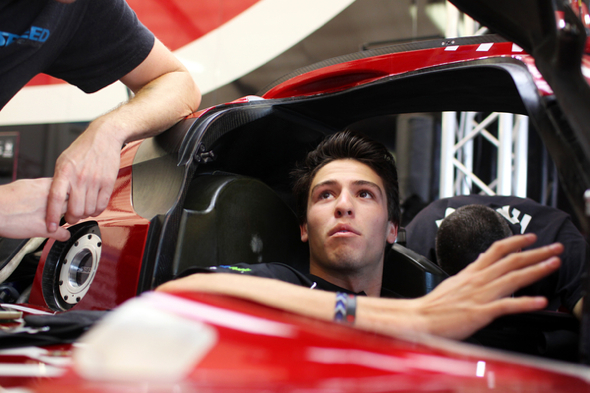 Tristan's father, Juan Nunez, was a professional tennis player. He coached Spaniard Arantxa Sánchez Vicario to a French open win in 1989, and was also Chris Evert and Gabriela Sabatini's coach. So it seemed only natural that Tristan started playing young. He even reached the top 100 in the junior rankings as did his twin brother, Dylan. But it never really called to him the way racing does.
"I enjoy tennis," he says, "but I never really had passion for it. I never knew that until I climbed into my first go kart. It's a feeling all die-hard athletes know. I knew, right then, that I was going to do whatever it took to race. Thanks to Mazda Motorsports, my dreams are coming true."
Tristan began his racing career in the Skip Barber Summer Series in 2011, where he was named "Rookie of the Year," securing third place in the championship. In 2012, Tristan competed in Cooper Tires Prototype Lites, making history as the youngest driver to win a race in the series, and securing the championship, with record-setting 11 wins, 12 poles, 13 top-five finishes and seven track records. Sports Illustrated even took notice, naming him a "Face in the Crowd."
In 2013, Tristan became a factory driver for Mazda Motorsports in the Rolex GRAND-AM Series. He also competed in the American Le Mans Series, where he placed third. The following year, Tristan returned to Mazda Motorsports, powering the MAZDA SKYACTIV diesel prototype in the now IMSA WeatherTech United SportsCar Championship. The partnership continued for the 2015 series.
"It's such an honor to be in my third year as a professional factory driver with Mazda," says Tristan. "I've spent the last few years in testing and development for the program and I'm excited to be building on all of the progress we've made for next season. It's an amazing experience to be able to do what you love every day."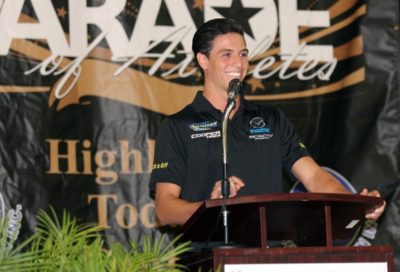 Tristan also partnered with Mazda to help spread the message to end distracted driving. It features "Project Yellow Light," a scholarship competition designed to encourage young people to develop and embrace safe driving habits: a subject close to the young driver's heart.
Tristan is so committed to this cause that he has created a foundation, the "Dnt txt n drV Foundation," to raise awareness to prevent texting and driving. The foundation raises funds and creates exposure around the issue of distracted driving, through Tristan's professional auto racing career as well as national and local community events. The foundation hosts a series of fundraising events to support and raise capital for scholarship programs for other individuals, working to make a difference in their own communities.
Racing and tennis aren't his only sports, though. Tristan started playing hockey at age 8 and enjoys mountain biking, which he took up because his mother, Diane, wasn't particularly excited about the idea of him biking on the road.
"It's a rush; it scares the living daylights out of me," he laughs. "I'm going through trees that aren't even the width of my bike. I'm going over jumps and over rocky terrain. It's definitely an adrenaline rush, as well as an immense workout."
Staying active in sports outside of racing is one way Nunez keeps a somewhat normal life. He's also often seen playing the guitar. Taking business courses at Palm Beach State College was a natural progression after graduating high school. Many of his schoolmates and friends are also already professional or aspiring professional athletes, so they're all looking for ways to stay fit and blow off stress.
Above all, it's about staying fit for those long hours in the Mazda cockpit. But it's not much of a sacrifice when you're having fun and living your wildest dreams.
Teammate: Jonathan Bomarito