A theme you will find among the factory drivers for Mazda Motorsports: Versatile, hardworking, personable, marketable, and talented behind the wheel. American race car driver Joel Miller embodies these. What makes him unique is how he leverages these attributes + his engineering background.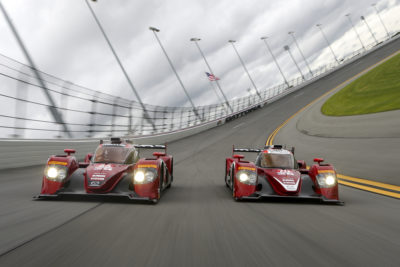 A recent Mechanical Engineer graduate from the University of California Riverside, Miller has been winning championships and races since 1998. Miller's career has taken him from karting to representing the Team USA Scholarship in Europe, to the Firestone Indy Lights Championship, and most recently a factory driver for Mazda Motorsports in the IMSA WeatherTech Championship Prototype class.
Miller started his racing career in Southern California, winning many local, regional, and national karting championships. People took notice, but more importantly, factory teams out of Europe took notice – namely TonyKart. Joel became a factory driver for Tony Kart and captured the North American championship in the ICA division for 2006.
His formula car career started in 2003 with Formula Fords; as with most drivers, a lack of funds limited his progression. However, he got the funding together to make a run in the 2007 Skip Barber National Series, winning the championship with 5 wins and 10 podiums in 14 starts; by taking this championship, he earned funding support from Mazda to land him a seat in the Pro Mazda championship in 2008. At this time, the Team USA Scholarship program took notice, selecting Miller to compete in England during the off season. Miller's career was taking off.
In his first start at Sebring in 2008 in Pro Mazda, Miller won from the pole position. As a rookie, he went on to finish runner up. Miller progressed up the Mazda Road to Indy (MRTI) ladder by making multiple Indy Lights starts in 2010 and 2011. In 2012, he moved to sports car racing in 2012.
A partial year in the Continental Championship allowed Miller to become acquainted with the different style of competition. In 2013, Mazda Motorsports asked Miller to become one of its factory drivers to aid in the development of Mazda's SKYACTIV Diesel motorsport program in Grand Am. Miller agreed and finished 3rd in his second start with the new program, second in the championship, and became the 2013 Monticello Grand Am Rookie of the Year.
Miller has proven his mettle on track, but when you tether it with his off-track performance, you have a special individual. Miller serves as the series driver coach and mentor for all drivers in the USF2000 and Pro Mazda Championships (i.e. first two rungs on the MRTI ladder). With his extensive knowledge of the ladder program, the circuits, race cars and more, he brings a wealth of experience to the new drivers as they work to progress up the MRTI ladder.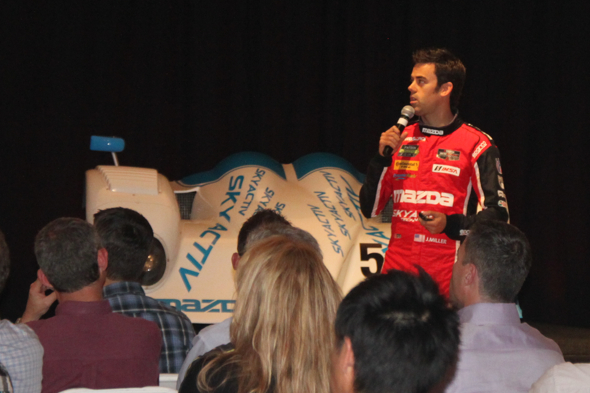 Miller helps lead Mazda's Racing Accelerates Creative Education (R.A.C.E.) program, teaching students the relevance of the STEM (Science, Technology, Engineering, Math) disciplines for real-world application. The STEM program is a part of the Mazda Drive for Good effort, which provides community and charitable help across the country. Having reached more than 16,000 high school students, Miller leverages his racing background and engineering degree, using motorsport and the Mazda Prototype race car as the tools to demonstrate how the four subjects help create success for the motorsport team. (The messages apply to all professions.) He helps students walk away with a better understanding of the importance of mastering these four subjects at the high school and university levels. And for those who do, what they can look forward to in their bright future.
Teammate: Tom Long