Racing in a pro series has much to teach a club racer; there's also a lot to learn before one makes the jump.
Danny Bender is not only an SCCA National Champion in Touring 4 and an SCCA Kimberly Cup winner, he also jumps into pro racing now and then. He has run MX-5 Cup in the past, but in November he took advantage of his knowledge of his home track, Road America, to perform well in a couple of pro races on the 4.0-mile Wisconsin circuit a couple hours drive from his home near Chicago.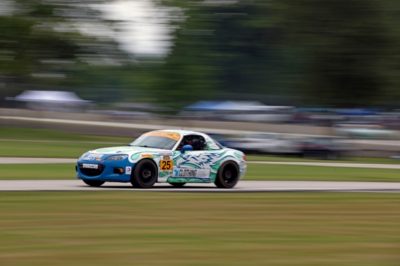 Bender, a salesman at Autobarn Mazda in Evanston, Ill., raced with Freedom Autosport in the IMSA Continental Tire SportsCar Challenge Street Tuner Class in early August, driving to a 10th-place finish with Britt Casey Jr. He followed that up later in the month to grab a fifth and a victory in tricky conditions in the Idemitsu Mazda MX-5 Cup Presented by BFGoodrich® Tires.
"I think our goal started as a top five for the weekend, so a win was pretty sweet," Bender says.
Bender had already won T4 at the June Sprints and the second SCCA Majors event at Road America. He ran the MX-5 Cup race with a car out of the McCumbee-McAleer Racing stable with sponsorship from ModSpace. Starting 13th in the second race at Road America in wet-but-drying conditions, he started the race on dry tires and used his intimate knowledge of Road America to find the grip and work his way to the front. Having a lot of back-and-forth knowledge between club and pro, we asked Bender for some insight into the differences.
"I think a lot of the big difference between club racing and pro racing is in the racecraft and the ability of drivers in a race. In club racing, you have a lot of quick guys, and it's a very good place to start building your racecraft, learning not only how to go fast around the track in practice and qualifying, but also throughout the course of the race," he explains.
"You'll start to get to the point where you start running at the front and run out of competition to run with. At that point, you'll want to make the jump to pro racing and that's what makes the MX-5 Cup the best first jump out of, say, Spec Miata or some of the other production-based classes like Touring. It's really a jump up not just in the skill level of the drivers, experience-wise, but the racing is that much tighter throughout the field, not just at the front."
It's not only the on-track product and experience that makes the difference, he notes. In a pro event, you're racing in front of crowds, and in the case of MX-5 Cup, racing on a weekend with a series that may feature star drivers and big teams that may be checking the junior series looking for talent.
"It's much more of an event, which is sort of cool," Bender says. "We ran with the [NASCAR] Xfinity series. That's a cool weekend to be a part of. The event is a lot bigger, which makes it a lot of fun. But the preparation is a lot more. If you normally check the car once, you check it three times. The data feedback and the coaching is a lot more precise. There's a lot more that goes into it."
So there is much to learn by doing a pro racing weekend; but there's also a lot to learn before doing a pro racing weekend.