The final Cooper Tires /Mazda MRTI social media winner of the season knows when to seek some help getting the word out.
There are those drivers that have mastered social media, and those that realize they need a little help.
If you've ever wondered how RC Enerson tweets updates while he's in his Lucas Oil Indy Lights Dallara Mazda, the obvious answer is, he doesn't. He's one who has realized he needs a little help in getting the message out, so he sought some assistance.
"Social media is a big part of getting yourself out there and getting your name out, and it's kind of a tough subject for most drivers, because we don't really know how to work with all that stuff," Enerson says. "We know how to use it, but to use it properly to get exposure is very difficult. It's kind of important to have a group or company to help you do that. That's what I've done. I've put a pro racing group behind me to move along things and help get my Twitter stuff, my Instagram stuff more out there and more frequently posting, because I myself am not a huge social media person. I'm mostly going to browse."
It's working for him, because he was the final Cooper Tires Mazda Road to Indy social media winner of the season even as he was still in the championship fight. Enerson ended up fourth in the Indy Lights Presented by Cooper Tires points, but he went into the final event at Mazda Raceway Laguna Seca with a mathematical shot at the title that went to Spencer Pigot.
"I did not expect to be this far up in the points, I was expecting to be competing for a top-five spot. We had a bit of a rocky start, but we picked things up pretty quickly with a podium at Barber and things excelled from there. Fighting for the lead at Toronto with Nelson Piquet Jr. was a big thing," he says. Unfortunately that fight ended with Enerson airborne and in the tire barrier. It was a big crash, but he emerged unscathed.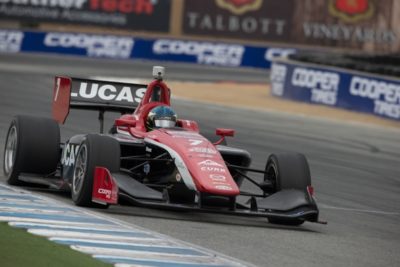 "To come away from a big crash and be OK, and with more confidence than ever to be able to push … to be on the podium multiple times after that and to get my first race win at Mid-Ohio was a huge confidence booster."
Enerson went straight from the Cooper Tires USF2000 Championship Powered by Mazda into Indy Lights, and has discovered that the cars are more similar than he thought they would be. He's also been told by several of the IndyCar Series drivers that the car is a great training ground. So he's looking forward to another crack at the championship next year, hopefully back with the Schmidt Peterson Motorsports with Curb-Agajanian team.
"I like these guys," he says. "I love the team and everything is good here. I definitely want another year of Lights and I'm hoping for a push for a championship next year."