Both Prototypes will compete with diesel power at Circuit of the Americas; Mazda MX-5 teams and drivers also battle for Continental Tire SportsCar Challenge title.
For round nine of the TUDOR United SportsCar Championship this weekend, two Mazda Prototypes will be on-track for the Lone Star Le Mans at Circuit of the Americas (COTA) in Austin, Texas. The Mazda team has raced with one diesel-powered entry (Car No. 07) the past four races while the No. 70 team car has been devoted to testing and development work. The Mazda team will also race both Soul Red prototypes at the season-ending Petit Le Mans powered by Mazda at Road Atlanta, October 1 – 3.
Joel Miller and Tom Long will drive the No. 07 car as they have throughout the season while Jonathan Bomarito and Tristan Nunez will pilot the No. 70 Mazda.
John Doonan, Director, Mazda Motorsports of North America
"The team has made consistent improvements – especially with reliability – and have finished each race since Long Beach. Our testing program away from race weekends has been very productive, but we wanted to close out the season at full strength for COTA and at Petit Le Mans. We have missed not having the No. 70 team and Tristan and Jonathan with us for the past few races, so we're happy that they will be back with us and right in the thick of it this weekend."
Tristan Nunez, Driver, No. 70 Mazda Prototype
About being out of the race car for four races: "It'll be so great to be back! The time off makes you appreciate what you have. I've been dying to get back in there and I've been training my butt off. I'm in the best shape I've ever been.
"At COTA, the best place for our cars are the 'Esses' (Turns 3 though 6). They're high speed and have really quick transitions. It's my favorite part of the track – so much fun – and it suits our car well. Our car loves running very low for maximum downforce, so the smooth surface really plays into our strength."
Jonathan Bomarito, Driver, No. 70 Mazda Prototype
"I like going to Austin – and especially getting back in the race car. We've still been driving in testing, but to get back into the car in anger on a race weekend, that feels pretty good. It's a different mindset when you show up to race.
"COTA always lends itself to a good race. They have big straightaways into hard braking zones that flair out to the apex, so they're very inviting for 'optimistic' pass attempts! There are a lot of good battles where you're passing and getting re-passed, so it's an exciting place to race and to watch. Traffic management is very critical there. In the 'Esses,' if you catch a slower car at the wrong time, you have to follow them for three or four corners. It can be really frustrating for a Prototype car because you could lose two, three, four seconds and you can't do anything about it. It takes patience and a little luck."
Mazda Leads Team and Driver Championships in Continental Tire SportsCar Challenge Series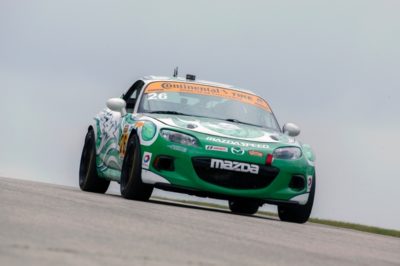 In the Street Tuner (ST) category of the Continental Tire SportsCar Challenge series, Mazda driver Andrew Carbonell leads the driver standings and is followed closely by fellow Mazda racers Stevan McAleer and Chad McCumbee, who trail by only three points heading into Friday's two-hour, 30-minute race at COTA. After missing the start at Virginia International Raceway for health reasons, Liam Dwyer will be back at full strength as Carbonell's teammate in the No. 26 Freedom Autosport MX-5.
Two Mazda teams, Freedom Autosport (No. 26 car) and CJ Wilson Racing (No. 5 car) also lead the team championship standings. In the manufacturer category, Mazda trails Porsche by seven points with two races remaining in the 2015 season.
Mazda's 'Drive for Good' and Austin's Beasley Mazda Donate to New STEM Center at Anderson High School, COTA presents Tickets for Students
Mazda Motorsports brought two STEM (Science, Technology, Engineering & Math) presentations Tuesday morning to Anderson High School in Austin. As a part of the presentation, Mazda's 'Drive for Good' philanthropic program and Beasley Mazda of Austin presented Austin Independent School District Superintendent Dr. Paul Cruz and Anderson High principal Donna Houser with a check for $2,500. The check is a donation for the school's new STEM facility that is under construction. Circuit of the Americas also donated Lone Star Le Mans tickets to all of the nearly 600 students who attended the event.