As SCCA racers prepare for the 2015 National Championship Runoffs at Daytona International Speedway, we've sought some guidance from a few experts.
The SCCA National Championship Runoffs returns to where it all began. In its first six years, the biggest club racing event alternated between Riverside International Raceway in California and Daytona International Speedway in Daytona Beach, Fla. Riverside is long gone, but Daytona still stands as both the heart of stock car racing and the home of professional sports car racing's longest North American endurance race, the Rolex 24 at Daytona.
With 28 sprint races scheduled for the 2015 SCCA Runoffs in its return to Daytona for the first time since 1969, it's a very different event from what Daytona is used to. And unless you live in the Southeast, it's likely Daytona is a very different track from your usual. Few tracks in the world can match it for time spent at full throttle, yet the twisty bits demand precision.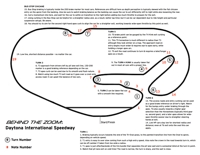 Tom Long has quite a few laps around the Daytona road course in recent years, in both a Mazda SKYACTIV Prototype and a Continental Tire SportsCar Challenge Street Tuner MX-5, so he's seen it from extremes. He knows how important power and the draft are here, but he also knows that those are only two factors to a fast lap and a successful race.
We turned to Long to get the scoop on the track. He provided us with some key points, which we've provided as both a marked-up map and a separate map and notes.
There are a few key takeaways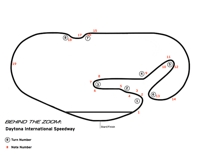 • The entry to Turn 1 can be deceiving, and coming from such high speeds as are achievable on the long run from the Bus Stop chicane, it's easy to want too brake to much and overslow the car.
• The two horseshoes are a different radius even if they look similar. The approach to Turn 5 is much wider than the approach to Turn 3.
• References for the Bus Stop can be difficult, as you're going from slight banking to flat.
• If you've got the right suspension setup, using the curbing in the Bus Stop to straighten out the turns a bit can be very helpful.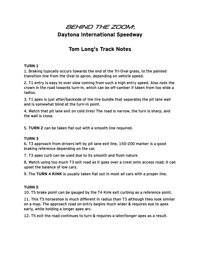 We've also provided a couple of videos, including a lap of the track in a Spec Miata, and a video of the data webinar hosted by AiM Sport's Roger Caddell and CTSC MX-5 racer Andrew Carbonell, who has a fair amount of time around the track himself.
We hope you will be able to use this information to get a jump start on learning the track and its nuances as you prepare for the Runoffs or whatever event may find you racing at Daytona.