A two-time SCCA Solo National Champion and Evolution School instructor has some words of wisdom for those heading to Lincoln for the first time.
Robert Carpenter is a two-time SCCA Solo National Champion. He's an instructor for the Evolution Performance Driving School, and will be competing this year with the help of a Mazda scholarship. He finished second last year in E Street, and has a number of ProSolo titles as well – so he knows how to get it done. We asked him what advice he might have for a first-time competitor at the Solo Nationals, or any big Solo event.
"The first time it's just trying to get over the first-time jitters. It's just learning to relax, because you've got to put two good days in. You could have a fabulous first day and overlook minor things on the second day or vice-versa," he says.
Some other tips he had to offer: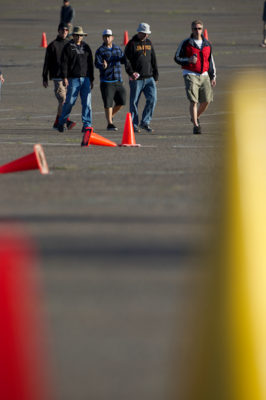 • "I think it's good to find someone you respect as a driver and walk the course with that person. That's how I learned. Ken Rupp was someone that kind of mentored me a lot when I was first getting started, and he was a fabulous driver out of Atlanta. He doesn't race anymore, but Ken is one of the best I've been around. Find someone you really respect and walk the course and learn why you're doing what you're doing."
• "Don't be intimidated. If you're not going there with the nicest-prepped car, the highest-level-prep car, that doesn't mean you can't outdrive everybody else. That's from somebody that took an older car that everybody said couldn't do it, in E Stock in 2001, and I was the fastest guy out there. It can happen for anybody."
• "Go out there and give it all you've got on your first run. Don't be scared to run 12/10ths. I've seen a lot of people that were really good drivers that when you go out there and you put together a really hot first run, they mentally shake themselves out of the game because they feel they can't beat you. I've also been known to run straight down the middle of the slalom running all over the rev limiter to drop a second on the whole class, and come in and try to be the intimidator."
"Our sport is so much mental," he concludes. "Think about it: We struggled all year long, and we fought to get to this one point, and it comes down to this one day, and you have three runs to make it the best you can. It really does come down to a mental block and a lot of people have problems there."
The 2015 SCCA Solo National Championships run Sept. 1-4 at Lincoln Airpark in Lincoln, Neb. You can find some more information for first-time participants here.