As a race driver with a mechanical engineering degree, Joel Miller often fields technical questions about our Mazda Prototypes powered by the SKYACTIV diesel engine. You might be amazed at the amount of power the small, stock-black engine produces per liter when compared with the rest of the Prototype field! Joel is one of the hosts of Mazda's STEM program, known as RACE (Racing Accelerates Creative Education), that will appear in local high schools before the remaining races in Austin, Texas and Road Atlanta.
Many times I hear the question, "What is SKYACTIV?" The name is on our Mazda Prototype race car, you hear about it in Mazda commercials on TV, or see the branding on billboard advertisements. The simple answer is SKYACTIV is the term used by Mazda to showcase a suite of new technologies used in all aspects of design for improved efficiency and engine output (performance). Mazda has asked the question, "Can the engine, chassis, and transmission be further refined to be stronger but lighter thus producing better performance?" The answer to that question is, yes. This applies to its street car models and also applies to the thinking at Mazda Motorsports.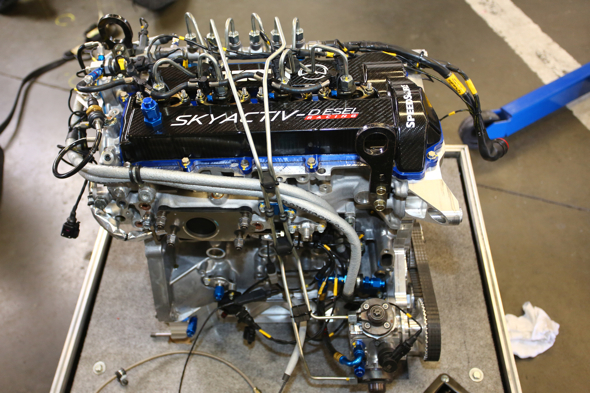 The best way to showcase SKYACTIV at the motorsport level is with the prototype program running the 2.2-liter, 4-cylinder SKYACTIV Diesel engine. Our engineers have been working since 2012 on the program using a stock block straight off the Mazda assembly line. We love the competition in the prototype category because racing is the perfect testing laboratory. Our competition uses racing engines designed for the extreme motorsport environment, (for the sake of this conversation, V8s) with a horsepower per liter estimation around 109hp/liter. We differ because our Mazda SKYACTIV prototype uses a production block which means our engine was originally designed for the standard road-going environment. With that block, we are able to produce 216hp/liter! We are achieving roughly twice the amount of energy with less materials (ie: cylinders), which shows a better use of resources. In short, we are more efficient.
Coming full circle, this is what SKYACTIV is all about: improved performance by using technology to refine the vehicle to a higher level. The motorsport program has accomplished some amazing engineering milestones from an engine block pushed well beyond its original designed parameters. If you would like to know more about these milestones stop by at any of our races and speak with the engineers (Dave Haskell, Zach Lagrone, or Marcus Shen) about the milestones and various turning points in the development. We are excited for the future and continue to apply the SKYACTIV idea to all forms within the Mazda Motorsports program. Always look forward to seeing our fans so please stop by and say hello at our events! Until next time ….
Related Content:
Behind the Zoom: Joel Miller on Coaching
Behind the Zoom: Jeff Braun