A Mazda scholarship is helping Robert Carpenter get to the SCCA Solo Nationals after a year of not competing in autocross.
Robert Carpenter couldn't be happier that he won. He couldn't believe it.
Wait…won what?
Carpenter hadn't entered any contest, applied for any Mazda scholarship to compete at the SCCA Solo National Championships next week in Lincoln, Neb. As it turns out, his wife Kellye, did.
In her submission to claim a $1000 scholarship for a Mazda competitor at the Solo Nationals, Kellye explained that it had been a tough year, and Robert was facing his first time in many years not competing at the National Championships. That's a tough thing to face for a guy who has two national championships, finished second in E Street last year and competed in 35-plus events most years.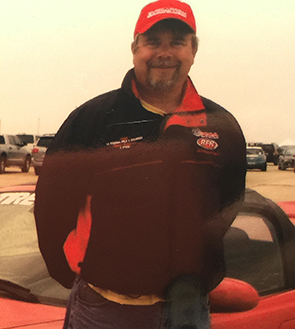 Robert explains that last December, his 17-year-old daughter was sideswiped by a semi truck, turning her car into a banana, sending her to the hospital with a concussion, fractured skull, broken nose and a punctured lung. The good news is she's fine and now a freshman at the University of Tennessee. The bad news is that between replacing the car, medical bills and now university tuition, there's not a lot of money left to play with. He sold his '99 Miata Sport autocrosser to Mark McCrary – whom he had bought it from originally – and hadn't strapped on a helmet but once this year, and that was to serve as an instructor for the Evolution Performance Driving School.
"I was ecstatic," says Carpenter, a member of SCCA's Eastern Tennessee Region. "I didn't know that my wife signed me up for it. Out of the blue, I got the notice that I won, and I thought, 'Won what?' [Kellye] felt bad, because with all the bills, getting my daughter into school…I just completely sidestepped the fact that I was going to be competing this year on a national basis. [Getting that news] was like Christmas to a little kid."
He'll be running in the car he sold back to McCrary, with McCrary as co-driver. And as much as he's looking forward to the competition, he's most excited about seeing his friends.
"These are people that I've known forever. The biggest part of autocross for me, and it has been for years – we're always into the competition and trying to become better drivers – but a lot of it is very social. The social aspect of autocross is huge. So to not be around my friends has been very difficult for me to handle. So this means a lot," he says.
He also admits that he's a bit trepidatious about the competition side. As someone who is used to doing well, he knows it's going to be an uphill battle going in as cold as he is.
"I am very nervous," he confesses. "I've competed at this level, and over the last 10 years I've competed in many different cars in many different configurations and never been out of the top five. This year will be a struggle because I haven't had any seat time."
Although he laughs when he says it, he says he'd love to win and use the contingency money toward an ND MX-5. His daughter received some scholarships she wasn't expecting, so a fun car, a dual-purpose autocrosser / Highway 129 (Tail of the Dragon) carver, is back on the table.
In the meantime, though, he's going to have a great time at the 2015 SCCA Solo National Championships, and about that he couldn't be happier.