The focus may be on the drivers, but those maintaining the race cars in the Idemitsu Mazda MX-5 Cup Presented by BFGoodrich deserve time in the spotlight.
Assembling and maintaining a race car is no easy job. Whether at the lowest grassroots level of the sport, or the most high-profile motor racing events, working to keep each racing machine going at its ultimate speed is a difficult, and often times thankless, job. However, in preparation for each of the Mazda MX-5 Cup's 12 races, men and women from many different backgrounds put their mechanical knowledge and wits to the test to get their race car across the finish line in first place.
Martin Chryst spends each race weekend working on No. 2 Chryst Brothers Construction/Studio Rhoad/Race4Domestic Violence Prevention MX-5, allowing his daughter and driver, Beth Chryst, to push the car to its performance limits on the track. As an independent, single-car team, Martin plays the role of everything from chief mechanic to tool gofer. With each race weekend comes loads of work, but Martin says he wouldn't trade it for anything.
"Working on a race car is sometimes fun, and sometimes challenging, but I think the final product always makes you happy," Martin said. "I know after a long weekend with lots of issues I look at my car and think, 'I need a break from you, we have spent too much time together recently!'
"The relationships and friendships we have made in karting and in the Mazda MX-5 Cup really are not comparable to everyday friends. Racing friends understand the time and financial investment required to race."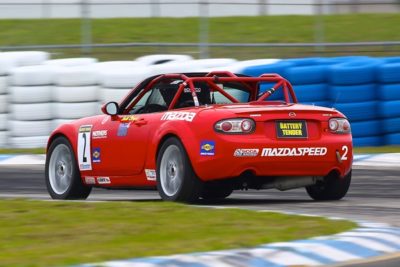 Aside from the physical work of turning a wrench on the race car, Martin also can slide into the role of driver coach and sports psychologist. After all, the driver is the biggest part of the equation when trying to push a race car to go faster. In just about every case, from amateur to professional ranks, that means the driver relies on their support system at the track to help get them into the right frame of mind to perform at their best.
That seems simple enough, but race car drivers are like many athletes in that they are often strong-willed and like to control every facet of what goes on while they are competing. That type of personality is not an easy one with which to deal, even if the mechanic and driver share a last name.
"Drivers are stubborn and always think they know best, even when data may prove otherwise," Martin said. "As long as they are able to communicate in wording that you can understand and to which you can relate, working with a driver can be fun. Although my daughter is my driver, and at times we don't see eye-to-eye, I know we are working towards the same final goal and end result. So, we respect each other."
As wrenching on a race car is only a part-time job for Martin, he does not have experience in many other forms of auto racing. However, the parity and ultra-competitive nature of the series keeps him, and his daughter, coming back every race season since 2011. Martin also said he credits the well-run nature of the series to the SCCA Pro Racing field staff that handles all aspects of event operation.
"We have only raced in the Mazda MX-5 Cup Series and some karting series," Martin said. "SCCA Pro Racing really does a great job at maintaining a high level of professionalism at all times during a race weekend. They have everything under control and I think that highlights the positives that the series has to offer for new potential competitors."
The Idemitsu Mazda MX-5 Cup is next in action this weekend at Road America, accompanying the NASCAR XFINITY Series.