Mazda SportsCar Academy driver Kenton Koch appears to be on his way to his third title in as many years, this time in the Cooper Tires Prototype Lites powered by Mazda.
Perhaps it was no surprise that Kenton Koch won the 2014 Mazda MX-5 Cup Presented by BFGoodrich® Tires. After all, he won the title the year prior in the Skip Barber MAZDASPEED Challenge, which uses very similar cars. But the IMSA Prototype Lites car is a very different animal. While the idea of Koch winning a title in his rookie year in the Cooper Tires Prototype Lites Powered by Mazda is hardly far-fetched, his utter dominance in pursuing that title, with eight wins out of 10 rounds run so far, has been a shock, even to himself.
"I didn't quite see the season going the way that it has in the beginning before I had even been in the car," says Koch. "First of all, because I had never driven the car before, and it's quite a big step. To say the least, I was surprised at my pace."
The IMSA Prototype Lites car is an Élan Motorsports Technologies sports racer chassis powered by a 2.0-liter Mazda MZR engine producing around 230hp. It's a light, carbon monocoque chassis with a big rear wing – a far cry from the Mazda MX-5.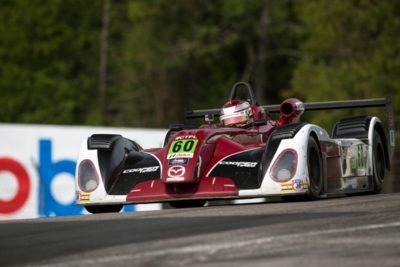 "Learning how to set the car up has been a big learning curve, because there's a whole other variable added to setting up the car," Koch says, referring to the downforce. "From a driving standpoint, you drive it the same way you would anything else. The only thing is you've got to get used to is getting your eyes up quicker because things are coming at you much quicker. But learning to set up the aero is the part that's new."
He says that another difference in racing with aero is trying to get clean air on the front of the car to get good exits, which can require some creativity. The trick in setup is decoding mechanical grip and aero grip, and getting the balance of the car right with those variables.
"From a setup standpoint, being able to decipher between aero grip and mechanical grip, and how you can adjust, maybe, your mechanical grip to help your aero grip or your aero balance. Whether to do a ride height change or a wing angle change, things like that, there are different things you can do. Just experimenting with those things is pretty fun and pretty interesting," he explains.
Given all that, how has Koch adjusted so quickly, and put his JDC Motorsports machine on the podium in every single race so far this season?
"I guess just mentally preparing myself," he says. "I just got in the car and got comfortable quickly. With so much grip, there's a lot more confidence going into the corner; the car is pretty easy to drive. The physical part was the big jump for me. I went from a power steering car that doesn't have as much grip to an aero car that doesn't have power steering. You're having to turn a wheel that weighs a million pounds and also hold your head up. I've had to go to the gym a bit more and I've been able to do that and I'm quite physically prepared now. At [Canadian Tire Motorsports Park] I could have gone another 15 minutes in the second race. My teammates said they couldn't go another lap."
The Cooper Tires Prototype Lites series has its penultimate weekend with another two rounds at VIRginia International Raceway on Aug. 28-29. Koch can clinch the championship with a solid performance in those two rounds.