MAZDASPEED Motorsports Kicks Off 2015 Club Racing Season Championships with NASA and SCCA racing and Solo events.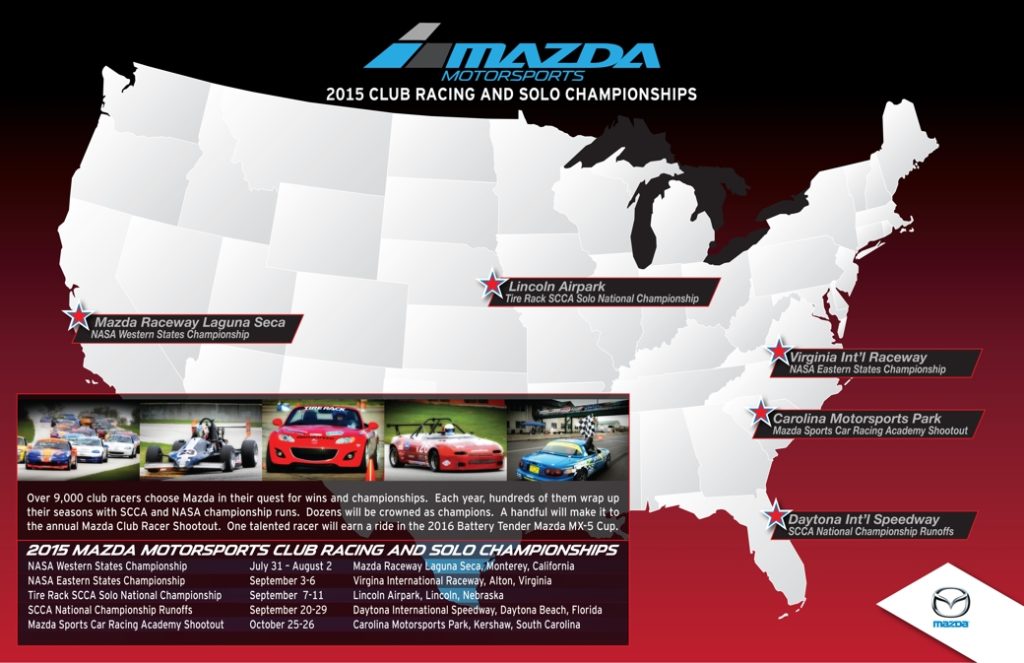 Racers know that on any given weekend, there are more Mazdas on the road-race tracks of America than any other brand of vehicle. No place does that take on greater significance than the season closing championships held by the Sports Car Club of America (SCCA) and the National Auto Sports Association (NASA). This coming weekend kicks off the first of five of the most important weekends of the year for Mazda racers.
"While the professional race series may receive the TV glamor, the heart and soul of Mazda Motorsports are those club racers who bleed Mazda Soul Red. Thanks to amazing cars like the MX-5 Miata, it is our privilege to have more Mazda racers than any other car company within both the SCCA and NASA. Mazda racers typically win the most championships within both organizations, and Mazda pays out more prize money than any other company at these events," noted John Doonan, Director of Motorsports for Mazda North American Operations. "This year will have many highlights including the NASA Western States Championships at Mazda Raceway, and the first ever nighttime race at the SCCA Runoffs, with Spec Miata being featured under the lights at Daytona."
Event: NASA Western States Championships
Dates: July 31 – August 2
Location: Mazda Raceway Laguna Seca, Monterey, California
Notes: Among the racers entered are Mazda Senior Vice-President Robert Davis who spends his vacation time racing his Performance Touring Mazda RX-8.
Event: NASA Eastern States Championship
Dates: September 3-6
Location: Virginia International Raceway, Alton, Virginia
Notes: Anticipation is high among east coast racers to battle at this beloved track.
Event: Tire Rack SCCA Solo National Championship
Dates: September 7-11
Location: Lincoln Airpark, Lincoln, Nebraska
Notes: With over 1,000 entries, the Solo championships are proof that grassroots competition with street legal cars is as intense as any form of motorsport.
Event: SCCA National Championship Runoffs
Dates: September 20-29
Location: Daytona International Speedway, Daytona Beach, Florida
Notes: In 2013, Spec Miata set the all-time record for largest race in the 51 year history of the Runoffs with 63 cars. That record may be broken this year when the Spec Miata race will be featured as the first-ever under-the-lights Runoffs race.
Event: Mazda SportsCar Racing Academy Shootout
Dates: October 25-26
Location: Carolina Motorsports Park, Kershaw, South Carolina
Notes: A select group of racers will be competing for the largest prize in all of club racing, a funded season in the 2016 Idemitsu Mazda MX-5 Cup. This is the tenth annual competition hosted by Mazda Motorsports.