NASA Western States Championships presented by Toyo Tires at Mazda Raceway Laguna Seca are drawing the best racers from across the country.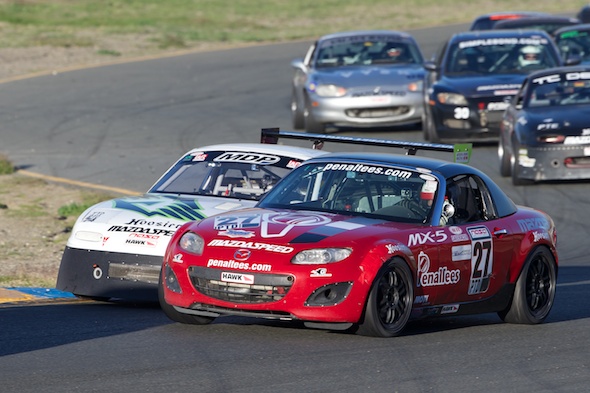 Competitors from across the country are preparing for the second annual NASA Western States Championships presented by Toyo Tires to run at Mazda Raceway Laguna Seca July 31- August 2.
This will be the second year that the National Auto Sport Association (NASA) has held twin championships for eastern and western states competitors. The NASA Championships, in their 10th year, are attracting top drivers and cars. Mazda Raceway Laguna Seca is proving to be a track that many NASA racers want to run.
"Traveling across the country for this one event certainly isn't easy or cheap," says Eric Powell, who will be racing his No. 74 Performance Touring Mazda Miata at the championships all the way from Orlando, Fla. "It is really stretching me to the max, just as it did last year. However, from the genesis of this build there has been one goal in mind. That is to win championships, get in the Mazda Club Racer Shootout and win the scholarship. To maximize my chances of a good showing at this year's NASA Championships, I have decided to attend both events and am looking forward to some great competition. I had a good shot at the Shootout last year but unfortunately I made a mistake that certainly played a factor. Therefore I'm going all in for a shot at redemption."
Powell knows he's going to be in for a battle with some of the West Coast racers.
"There are a couple of guys I don't have much info on but certainly Josh Allan will be one to put up a fight," he adds. "I know he has been working hard to improve his car and has a great team behind him. Truthfully he wasn't far off last year, my car just happened to work particularly well in one specific sector at Sonoma [Raceway] that gave me a huge advantage. My goal for the weekend is to win."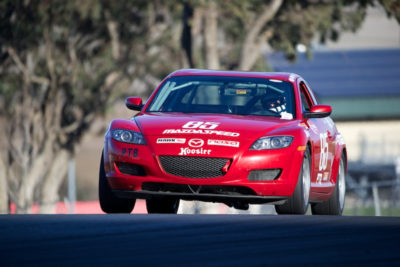 Warren Dexter and his father Zane are coming from Nebraska. "We will be driving two different cars," Warren said. "I will be in a 2004 Mazda RX-8 and my father will be in a 1990 Mazda Miata. We both run in the PTC Class so we will be racing against each other. Usually when we race in Spec Miata I end up beating dad, but his Miata is a brand-new build and only time will tell how fast he'll be. My goals are to have a fun weekend with my dad and to win a National Championship."
Will Faules, NASA National Event manager, says he is ready to welcome racers to the Monterey Peninsula.
"Wow, I can't wait," Faules says. "We have great drivers in top cars coming from across the country. The great Mazda Raceway Laguna Seca circuit is a great draw for our Championship event. We still have entries coming in every day as we get closer to hitting the track for the big event."
Mazda Raceway Laguna Seca is a 2.2-mile, 11-turn undulating road course located in the foothills of the Monterey Bay area. The track is known for its high speeds and signature downhill Corkscrew turn. The challenging road course is sure to provide exciting racing throughout the championships weekend.