The revered Road America track hosts the ninth and 10th rounds where Mazdas win in a variety of classes
The slipstream draft proved to make or break the hopes of many drivers looking to notch wins in Rounds Nine and 10 of the Northern Conference SCCA U.S. Majors Tour, part of the SafeRacer Club Racing Program. Less than ideal track conditions drew the front runners in many classes closer together for extended periods during
each group's 20-minute races on Saturday, but cooler temperatures on Sunday led to some new track records.
Warm July temperatures for the sprint races, a result of nearly cloudless skies over the 4.048-mile, 14-turn road course led to some close racing. The sun warmed the asphalt to the point where many drivers felt it was too slick to put the throttle down as they would like.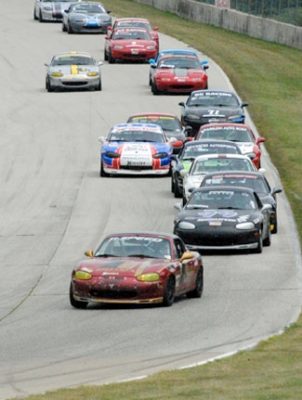 In F Production, Elkhart Lake local Michael Froh scored the win after getting around Michael Hart following the white flag. Hart turned his fastest lap of the race on the last lap, but it wasn't enough to keep Froh, in his No. 72 Mazda Miata, behind him.
Based on the finishes seen in the first four groups, it only stood to reason that the 27 drivers in the Spec Miata field would put on a show worthy of note. Kyle Webb, of Centerville, Ohio, was the first to pass under the checkered flag, but it was no easy win. Webb drove his No. 99 Nova Brown not forgotten/ATL Speedway Mazda Miata to the win, but only 0.043sec ahead of Justin Hille, with Justin Elder less than 0.6sec behind. On Lap six of eight, it looked like Webb may not be in the right place to capture the win as he was shuffled back to fourth. But he was able to claw his way back to the front and score his second Northern Conference win.
While the speeds were higher on Sunday, the race results were still close in many classes. At one point the skies threatened rain during the scheduled 12-lap feature races, but that threat passed over the facility without affecting the competition.
Voytek Burdzy beat winner Danny Bender, of Northbrook, Illinois, to the line in the Touring 4 contest, but received a post-race penalty that landed him in third. In his
No. 15 Bravo Trailers/BFGoodrich® Tires/Autobarn Mazda MX-5, Bender scored the weekend sweep, although Burdzy reset the T4 lap record with a time of 2:40.617.
Justin Hille, of Canfield, Ohio, came out on top of the Spec Miata field. His No. 8 Hilltrux/Roush Mazda Miata crossed the line just 0.523sec ahead of Saturday winner Kyle M Webb.
SCCA Northern Conference Majors
Rounds 9 and 10, Road America
Elkhart Lake, Wis., July 25-26, 2015
Saturday Mazda Winners
| Class | Driver | Hometown | Car |
| --- | --- | --- | --- |
| Formula Atlantic | Ryan Norman | Abbottstown, Pa. | Swift 016 Mazda |
| E Production | Jon Brakke | Fargo, N.D. | Mazda Miata |
| F Production | Michael Froh | Elkhart Lake, Wis. | Mazda Miata |
| Spec Miata | Kyle M. Webb | Centerville, Ohio | Mazda Miata |
| Super Touring Lite | Rich Walke | Hawthorn Ridge, Ill. | Mazda RX-7 |
| Touring 4 | Danny Bender | Northbrook, Ill. | Mazda MX-5 |
Sunday Mazda Winners
| Class | Driver | Hometown | Car |
| --- | --- | --- | --- |
| Formula Atlantic | Dudley Fleck | "Cedar Rapids, Iowa" | Swift 016 Mazda |
| E Production | Steve Smyczek | New Berlin, Wis. | Mazda RX-7 |
| Spec Miata | Justin Hille | Canfield, Ohio | Mazda Miata |
| Super Touring Lite | Rich Walke | Hawthorn Ridge, Ill. | Mazda RX-7 |
| Touring 4 | Danny Bender | Northbrook, Ill. | Mazda MX-5 |