Sylvain Tremblay is a proud Canadian and the owner of SpeedSource, the Mazda factory team in the TUDOR United SportsCar Series. Tremblay is a very accomplished and successful driver with multiple road racing championships and two victories at the Rolex 24 at Daytona. This season marks the 20th anniversary of SpeedSource. This week's racing action takes place at Canadian Tire Motorsports Park (née Mosport) – a place that Tremblay knows very well. He explains what makes the track so special to race drivers.
I was born in Montreal, so I love Mosport (now known as Canadian Tire Motorsports Park or CTMP) and Mont Tremblant. These historic Canadian tracks evoke memories of my youth and memories of one of my racing heroes, Gilles Villeneuve. He will forever be a legend in Canada and around the world.
I like to say that those two tracks were built before lawyers got involved in track design. The fast and flowing nature of the Mosport circuit suits my driving style. One of the things that separates it from other tracks is the level of commitment that is needed to go fast here. This track demands your attention. The turns make you "pucker up," hold your breath and scare yourself. Of course, as you exit some of those turns you tell yourself, "I could have carried more speed."
Two of the really fast corners are completely blind on entry, so we have to totally rely on the excellent corner workers and safety personnel that watch out for the drivers and crew.
I believe racing needs more tracks like CTMP, and it's one of the favorite circuits for many drivers. But that's not the only reason they love to race here. The Canadian fans LOVE racing and they 'get' road racing, so its always a great atmosphere. They are some of the most knowledgeable fans that we have the privilege to meet all season.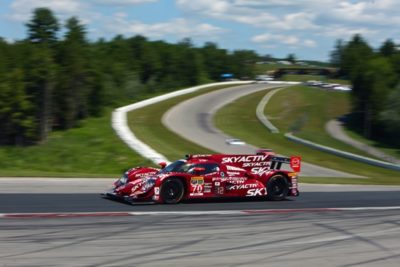 I have had some great races here. My first win at Mosport came in August of 1996, and it was against Ron Fellows, who is now one of the track principals and a Canadian racing legend. He was in a Camaro and I was racing a Mazda Twin-Turbo RX-7, and we diced it up. I learned from him how to get around the place, and was able to beat him at his home track! It was a cool day for the team and one that I will always remember.
Because it's a fast track, it has led to some scary crashes. Here's a Pro Tip: NEVER ride in the seat that does not have the steering wheel here at Mosport! (Thanks David Haskell!) [Haskell is a former driver and was employee number one at SpeedSource. He is now director of the SpeedSource powertrain department.] We ended up testing the impact strength of the concrete barrier at the bottom of Turn 2! I even crossed the finish line on fire once (Thanks Boris Said!).
I know I speak for many drivers with only one request: please build more tracks like CTMP! Until then, we need to keep places like this alive and thriving. Not only do I need it, but the sport needs it as well. I look forward to this weekend's race – and especially to see the Canadian fans once again.
Related Content:
Behind the Zoom: Joel Miller Talks Long Beach
Behind the Zoom: Jonathan Bomarito on Mazda Raceway Laguna Seca