Championship leader dominates Rounds 5 and 6 for a total of five wins so far in 2015.
Rain or shine, there's one indisputable fact in Cooper Tires Prototype Lites Powered by Mazda competition in 2015: Kenton Koch is the driver to beat.
Koch, from Glendora, California, completed a Lites 1 class sweep of two races at Watkins Glen International by winning Round 6 in mixed conditions. Koch earned his fifth win in six starts this season in the No. 60 JDC Motorsports entry and his fourth in a row during his rookie season in the International Motor Sports Association (IMSA) Official Development Series.
The victory came in a race that started in dry, cloudy conditions on the cusp of oncoming rain and ended under caution in steady rain.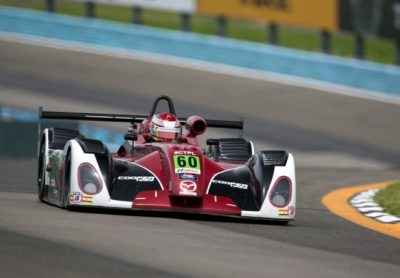 Koch's JDC Motorsports teammate Clark Toppe, from The Woodlands, Texas, finished second. Fellow series rookie McKay Snow, from Pleasant Grove, Utah, placed third to earn his first career podium in the No. 29 Extreme Speed Motorsports car.
Light drizzle started on the pace lap. Koch lost the lead briefly to Austin Versteeg of Performance Tech Motorsports on the first green-flag lap but quickly regained the top spot before the field returned to the flag stand. Koch then started to show his superiority in the wet conditions, pulling a 3.134-second lead in just one lap over JDC teammate Matt McMurry.
The rain intensified on the first two laps, triggering a full-course caution due to multiple cars spinning off track. The race then was red-flagged for five minutes to allow teams to change from slick dry Cooper tires to grooved rain tires.
Koch pulled away on the restart, which took place with 19 minutes remaining. But drama unfolded behind him when McMurry spun out of second place in Turn 1, pushing Toppe from third to second.
Another full-course yellow was triggered by an incident between Dave House and Tony Bullock in Turn 8 with 16 minutes remaining, erasing Koch's 6.706-second lead over Toppe.
The race restarted with 10 minutes, 30 seconds remaining, and Koch once again took off. He built a lead of 4.860 seconds after just one lap, expanding that gap to 14.733 seconds three laps after the restart in a magisterial display of wet-weather driving.
The day prior, in Round 5, Koch led from start to finish in the 30-minute race after winning the Lites 1 pole Friday morning. But his lead over Robert Alon never grew to more than a second and he crossed the finish just 0.396sec ahead of Alon's No. 00 Performance Tech Motorsports car.
Alon tied his career-best finish of second – first recorded last June at Watkins Glen – with his top result of the season. Versteeg finished third.
Koch padded his points total to 118 – just two shy of perfection – and leads second-place Toppe by 30 points in the Lites 1 standings.