Club Racer Shootout winner has faced a steep learning curve in his rookie season of pro racing as he adjusts to the Idemitsu Mazda MX-5 Cup Presented by BFGoodrich® Tires.
"It makes me question everything I know, because I had to really learn how I drive a racecar, driving these cars," says Kyle Loustaunau, hardly sounding like a NASA Western States Spec Miata champion and winner of the Mazda Club Racer Shootout. What he's learning is that while some of his experience applies to his current ride in an Atlanta Motorsports Group MX-5 in the Idemitsu Mazda MX-5 Cup Presented by BFGoodrich® Tires, not all of it does.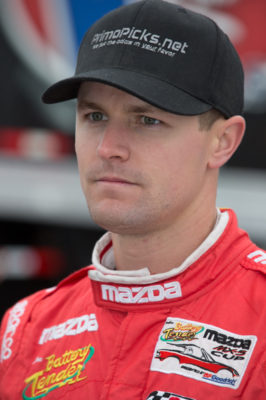 "It's not like driving a Spec Miata where I can run hot into a corner and be fast out," he continues. "These cars do not like that whatsoever and they will throw a fit. They like a really slow, controlled entry, and it's all about exit speed with this car. It's all about getting the car slowed for a corner and how fast you get out of the corner. That's been the toughest thing to learn, because I like to overdrive the car and kind of wring its neck, and you just can't go fast in these cars doing that."
Loustaunau thinks he's getting the hang of it, but the results in the first six races at three different venues – Sebring International Raceway, NOLA Motorsports Park and Mazda Raceway Laguna Seca – have left him wanting. After the first race, he's had a steady string of top-10 finishes and is the highest rookie in the standings at ninth in points. But that's not enough for someone who's used to winning.
"It really takes zero mistakes to win one of these races, the competition is so high and most of these guys have been in the series three or four years. They're done making their mistakes, so it's coming down to me learning as fast as I can. I think I've figured it out; it just takes complete, 100-percent mental focus. Not overdriving the car, and not getting too disappointed after having a bad run. Just putting your head down and focusing on the next session and making the car better," he says.
Aside from some lessons in racecraft, Loustaunau is getting a crash course in the business side of racing, and how big a part of the sport it actually is.
"I need to find money for next year, and that's what Mazda wants me to do. Mazda has been helping me find money for next year, and I couldn't ask for anything better than that, because I want to have a drive next year. It's tough and it weighs on you, because it doesn't let you focus 100 percent on racing. And I know in the professional ranks, the business side is more than the actual racing portion," he explains.
Racing this season on the Mazda scholarship, he's learned that money doesn't go as far as one might wish in motorsports. While the scholarship covered running the car, a new driver's suit, entry fees and tires, there are a lot of other things, such as travel, that he has to fund himself. Still, when questioned about advice for drivers that want to make the club-to-pro transition, he says there aren't many routes better than the one he's traversing.
"I wanted to attend the Mazda shootout for five years," Loustaunau says. "Each year I laid out a plan within my budget that let me get there. There were certain scenarios I could take to get to that road. As I got older, the money got tighter. I bought a house and the money got even tighter, so those paths narrowed down to one. As long as you put your head down and have a plan, you'll be surprised what you can get done. In my case, Mark Drennan looked unbeatable that year. I knew I was going to have a tough road to get through him and get that win at Sonoma. But luckily that's my favorite track; it's 30 minutes from my house and I have a ton of experience there. So does he, but it just give me a little extra fire. Having a plan, having that plan be reasonable and sticking to it can get you there."
Look for Loustaunau and the rest of the Idemitsu Mazda MX-5 Cup Presented by BFGoodrich® Tires competitors at Canadian Tire Motorsports Park on July 10-12.