Race fans can be very sentimental about their favorite race tracks, and race car drivers can be just the same. Mazda Prototype driver Tom Long, who grew up in Poughkeepsie, New York, has a special appreciation for the history and the tough circuit at Watkins Glen International where he will be racing this weekend.
Watkins Glen International has always been one of my favorite tracks. The town, the track, and the history is incredible. It's a beautiful area, with the circuit overlooking the town below, right at the base of Lake Seneca.
Watkins Glen is legendary with its history of famous drivers, Formula 1 races, and a racing legacy dating back to 1948, when Watkins Glen hosted the first post-WWII road race through the downtown streets.
The permanent circuit, which was built in 1956, is so challenging and has a lot of excitement to offer, like the high-speed Esses and banked corners with extreme elevation. It's really rewarding when you get a lap right.
My first memories of Watkins Glen are from my childhood, when my Dad club raced with SCCA. I always enjoyed our trips to the race track, especially when we went to Watkins Glen. I can remember all of the excitement that I had, knowing this was a pro circuit with NASCAR and other high-level racing. It was the biggest track we went to where my favorite professional drivers also raced.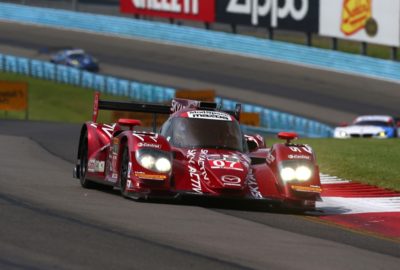 After growing up, I was fortunate enough to have the opportunity to race professionally there myself. Watkins Glen has been really good to me. My first pro race there in 2008 with Freedom Autosport resulted in a podium finish with my co-driver Rhett O'Doski. It was Freedom's inaugural year in IMSA Continental Tire SportsCar Challenge and our second podium of the season. It felt incredible to actually be on the podium at Watkins Glen.
More recently, I've had several opportunities to run in the "Big Race" – the Sahlen's 6 Hours of the Glen – not just in GT cars, but now in the premier class with the Mazda SKYACTIV Prototype.
Even though the layout and the elevation hasn't changed, being in the Mazda Prototype at such a demanding circuit means that my perspective has certainly changed. The Prototype is so much faster, both on the straights and in the corners, and the braking is absolutely incredible. The inherent grip that the car generates makes sectors like the Bus Stop and Turn 5 Outer Loop unbelievably demanding, but thrilling to get right.
It's exciting to think that we're coming back for a second time in the Mazda at the Sahlen's 6 Hour at The Glen this weekend. With all of my memories and success at the circuit, going back there is always a special experience.
Related Content:
Behind the Zoom: Joel Miller on Driver Fitness
Behind the Zoom: Tristan Nunez on Public Speaking
Behind the Zoom: Jeff Braun