Wheel-to-wheel racing is perhaps the ultimate motorsports thrill. If you're thinking about it, here are some pointers to help you get started.
We've recently offered some tips on going autocrossing and participating in track days. Both are excellent venues for learning more about driving a car at the limit and improving yourself as a driver. The goal for many, however, is wheel-to-wheel racing. Where the motorsports bug bites for most is watching the pros – say those in the TUDOR United SportsCar Championship or VERIZON IndyCar Series – and thinking, "I want to do that!"
The beauty of it is you can, in a way. No, you won't be strapping into an Indy car at Mid-Ohio or a Mazda SKYACTIV Prototype at Mazda Raceway Laguna Seca, but you can belt yourself into a Miata and race at those same tracks. Of course, there is no doubt that doing that takes more commitment and resources than some of the other motorsports activities we've discussed.
Nevertheless, those activities are still a good place to start. Many great racers have started by autocrossing, such as 2007 Mazda MX-5 Cup Champion Jason Saini. It's a great place to learn car control and get used to a competition environment.
Track days can teach you about the higher speeds you'll encounter in racing, often on the same tracks on which you will race. For the National Auto Sport Association, that's the route their program is designed around – High Performance Driving Events, Time Trials and then on to wheel-to-wheel racing.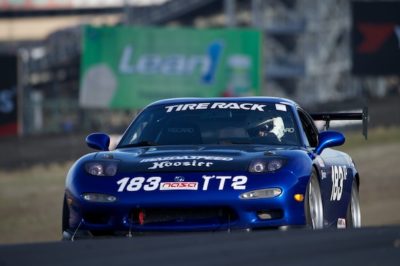 Time Trials are a worthy point of discussion. They are something that you can do in the car you'll race or, in some cases, a street car. They are usually conducted on racetracks, although some organizations will modify those circuits for safety and also lay out faster courses on airport runways. But they will give you the opportunity to push a car to its limits at speeds similar to those at which you'll race. Whether it's NASA's Time Trials or SCCA's Club Trials, it's a worthy stop on the journey to wheel-to-wheel racing.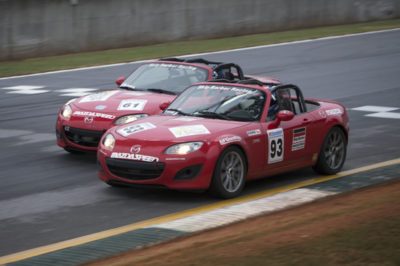 The other route to club racing is driver's schools, either professional outfits such as Skip Barber or Bob Bondurant, or schools put on by the racing organizations themselves. Depending on the school you'll leave with either a novice permit or a racing license.
However, choosing the proper route to get there is only one of the decisions you'll have to make. There are many more, and what you choose depends heavily on your goals.
"Do you want to do this is a hobby, which is great, because it's probably achievable, rather than climbing the motorsports ladder? Mazda has graciously given opportunities for people [to climb the professional motorsports ladder] but that can still be quite difficult and challenging," says Tom Long, who has climbed that ladder from his start as a club racer and now races a Mazda SKYACTIV Prototype in the TUDOR United SportsCar Championship and also coaches other drivers. "You also need to consider choosing the right car. What I mean by that is it needs to be a car that fits into a class. You don't want to spend a lot of time, energy or resources building a car that you then realize doesn't fit into anything worth pursuing."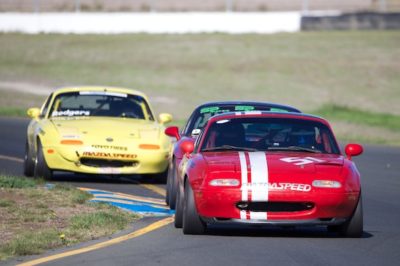 In other words, find a class that has good competition that you can be competitive in. Naturally, we like Spec Miata for that reason and the fact that your choices in car build are limited. Reducing the number of decisions can eliminate a lot of the bad ones.
Even if you choose Spec Miata, you'll want to gather as much information as possible, which leads us to your best source of this information: other club racers.
"I think one of the best things you can possibly do is to find a successful club racer that knows the ropes a little bit and is willing to give you the outs and ins and has already made the mistakes and can tell you which ones to avoid," says Reece White, SCCA's senior manager of Marketing and Communications. "They can tell you the things that are really necessary to get your program off the ground and avoid the things that look great and everybody thinks you should do, but at the end of the day may not be as important as you think."
One way to do that is to show up at an event, walk around and talk to competitors that compete in the class in which you're interested. The next step might be to ask some if they'd like some help at the next race. People like help, especially when all they have to pay for it is a little advice.
"You can learn a lot not only about the driving, but also the car prep," says Long. "It can really help you gain experience with all the logistics, the setup and everything on the car prep side."
You'll also want to read the rulebook. Not knowing the rules is no excuse for not following them.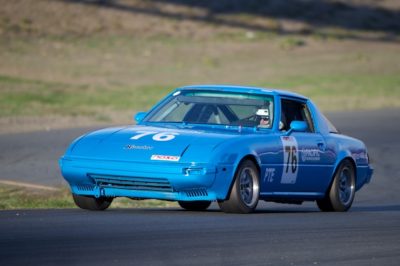 If you have chosen an organization, class and car, the next question, if you're considering a road car-based class rather than something like Formula Mazda, is whether to buy or build. Having spoken to a lot of racers on this topic over the years, most would advise buying. For one thing, you're eliminating some decisions on your part. For another, it's often cheaper than starting with a road car and building it up as a racecar. Third, built race cars usually come with spares and valuable setup information. While you may have to make some changes to a pre-built car to suit yourself, such as seat, steering wheel or even some of the performance items (if the rules allow), buying a car and swapping parts is still generally cheaper than building from scratch, especially if you take the spares into consideration.
There's another option that doesn't involve owning a car at all, and that's using an arrive-and-drive program. There are companies that have fleets of Spec Miatas or Formula Mazdas that they will bring to the races and prep. It's not a cheap option, but if you don't have a place to store a car or the desire to do the mechanical work, it can be a good one. Many of these same organizations will also transport and prep your car.
Whatever class, car and club you choose, you'll still need a license to race. We discussed some routes to obtaining one at the beginning of this article, but now we'll lay out a recommendation. Do a professional school and then go through the organization's program, whether that be NASA's ladder or an SCCA Driver's School. The professional school will give you the fundamentals of driving, and even if you leave there with a license, going through the club's program will give you more insight into the way events are conducted, the racing rules, flags and other signals, and give you a more complete education. That's a more expensive option than doing one or the other, but it should also better prepare you for racing.
Wheel-to-wheel racing is another level of commitment beyond autocrossing or track days, but that doesn't mean it has to be terribly difficult or expensive. Use this as a starting point, gather as much information as you can before you take the leap and go into the fray armed with knowledge.
Two last pieces of advice … First, don't skimp on safety. Spend less on having the latest and greatest go-fast goodies so you don't have to budget your safety equipment. Second, race a Mazda. Not only will you be able to take advantage of some of the best contingency and parts discount programs around, but no other manufacturer offers a path from club racing all the way to an opportunity to test for a top-flight sportscar team or even a shot at an Indy car drive.
Oh, and one more thing: have fun!
Resources:
SCCA: I want to road race
NASA Pro Racing