Mazda and the Long Road Racing crew have been furiously testing the 2016 MX-5 Cup car with an eye toward final specifications in a matter of weeks.
The 2016 Mazda MX-5 Cup racecar made its public debut a little over month ago at Mazda Raceway Laguna Seca. The Mazda Motorsports development team that includes Long Road Racing learned much running in practice sessions with current Idemitsu Mazda MX-5 Cup Presented by BFGoodrich® Tires cars, but that was only the beginning.
Since then, the team, with chief test driver Tom Long, have been testing a variety of pieces at VIRginia International Raceway near Danville and Carolina Motorsports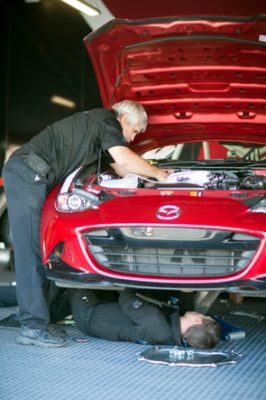 Park in Kershaw, N.C. Some of it is mundane, such as making sure there's no tire rub and that lap times are on target. Other tests go a little deeper.
"We've been doing a bunch of different pieces and parts testing," says Long. "We're learning a lot, but I've been enjoying it as well. We started off after Mazda Raceway doing some further brake cooling and sway bar testing, trying to optimize our package in those departments.
"We've also been doing a bunch of damper testing. That's been a very involved process, just because dampers can be such a complex thing and ultimately we don't want it to be complex because it is kind of an entry-level series. We want to make sure competitors can make adjustments to cars and have some tunability, but also it not be so complex that a newcomer to pro racing would get lost with all the adjustments available," he adds.
After all that testing, Long Road Racing submitted its findings to Mazda Motorsports, which will take a look at the data and work with partners to find the best package that will also present good value to racers.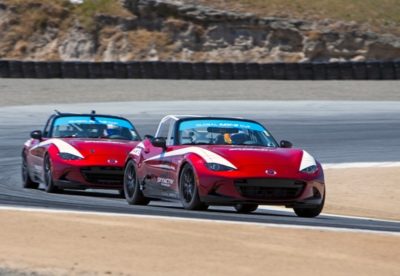 But there may be some more things to learn, as well. Long just completed running the car at Road America during the June Sprints and will also run in MX-5 Cup testing sessions at Canadian Tire Motorsports Park. Testing the car at different tracks has produced some interesting findings. For example, Long cites Turn 6 at Mazda Raceway, which, due to its banking and bowl-like shape, produces a high vertical g-load on the car. That load was causing an anomaly in the car's stability control system – something the team may not have discovered at other tracks.
At Road America, in addition to showing off the car to SCCA Club racers and getting an opportunity for some wet-weather testing, Long and Andrew Carbonell saw the highest speeds they have seen, and tried out the draft as well.
"The 2016 MX-5 Cup is going to have some great races at all tracks, but especially at the higher speed tracks, because the draft is going to be huge," Long says, noting a 5mph difference between drafting and being out in the wind. "We couldn't lose each other. One of us would pull away, and on the next straightaway we'd reel back in. It's going to make for some really exciting MX-5 Cup racing next year."
There have been some other interesting discoveries as well, including something that surprised even veteran racer Long. The team has been trying a variety of tires and also playing with different rim widths, and it's the latter that delivered a curiosity.
"You think, 'Rim width … OK, wider must be better.' Sure, testing has found that," explains Long. "But ultimately, we're not just interested in going faster. We have to consider things like hub life, the bearing life. The more grip we have, is that going to make the bearings or hubs weaker over a given amount of time than if we were on a narrower tire and rim? So we're playing with that and the car acts differently and has different characteristics on a stock rim vs. a wider rim, even with the same size tire. From a racer's standpoint, I like the wider rim – not only because it goes faster, but has better feel in braking and cornering and just overall grip. But we also need to balance that with how it fits in the wheel well, as well as the hub and bearing life.
"It might be obvious to think about, but it wasn't so obvious to me because I never had experienced the situation with a one-inch rim difference – on the same tire – making a big difference in the way the brakes felt and everything like that. It almost felt like a different ABS configuration, it was that different."
Ordering information has already been released, and final price and specifications are due soon. Keep watching MazdaMotorsports.com for the latest information.