Pro Mazda Championship racer is using social media and education to get a leg up on the competition.
Will Owen knows that there is more to motorsports success than just being fast on track. Making deals and promotion are critical components for a rising star on the Mazda Road to Indy. Fortunately, the Colorado Pro Mazda Championship Presented by Cooper Tires driver has a handle on these things.
Not only has the 19-year-old just completed his first year as a Business major at Texas Christian University – and put a 4.0 GPA in the books for the spring semester – but he's got a good grasp of promoting himself and his partners on social media. In fact, that's why you're reading this now.
"Mazda and Cooper Tires put on a social media contest where you do a certain number of posts and do certain challenges via Twitter and Instagram, and you're entered into a drawing. We won the drawing for April, and part of the prize was an article on MazdaMotorsports.com, which is a pretty cool deal," Owen explains.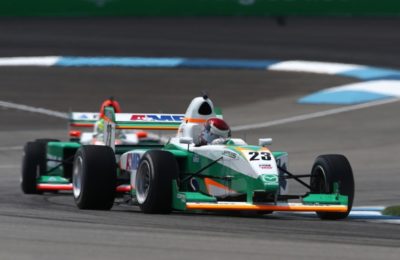 You'd probably have been reading about him eventually, anyway. A winner in the Cooper Tires USF2000 Championship Powered by Mazda last year (Indy road course), he's sitting fifth in the Pro Mazda standings at about halfway through the season and gaining steam. He scored a pair of second-place finishes in the most recent races in Indy, one on the IMS road course and another on the Lucas Oil Raceway oval. He says he knows what it's going to take to take that last step to the top of the box.
"All it's going to take is me putting everything together," he says. "Qualifying is the most important session of the whole weekend. If you start behind fifth place, it's very difficult to finish too many spots ahead. You have to start in the first two rows to have any chance of winning, and qualifying this year has been crazy. At Indy, second through eighth is a tenth [of a second]. So I've got to qualify well. I know I can do it, I just have to put everything together correctly – not make any mistakes, get the right gap. I also need to improve my racecraft. My racecraft has gotten much better since the beginning of the season. But I still need to get more aggressive and make some more passes."
Owen adds that the competition is tough in Pro Mazda this year, thanks in part to a diverse group of drivers from Europe and Asia bringing with them a lot of skills, aggression and different racing styles.
So Owen knows what he has to do on the track, and is progressing to putting it all together off the track. That's why he's in college, even if it's difficult balancing school and a racing career. He chose business specifically to help him in that career.
"You're not going anywhere in racing without business knowledge or someone helping you with the business side. Racing is such an expensive sport. I have to learn how to make deals, how to find sponsorship, because you're not going anywhere without money. I think my business degree is going to help me understand the business side of racing, because it's so important now," he explains.
Promotion is a key component of that, and social media is an ever-growing subset . It allows drivers and teams to communicate directly with fans. But it has its pitfalls as well. Many a public figure has been brought down by a misguided tweet or Facebook post. So being on social media isn't enough – you have to do it correctly.
"You have to go above and beyond in the social media to beat everybody else," Owen says. "It's becoming more and more competitive, just like on the track. We have to come up with more creative stuff, more creative posts to engage different audiences. It's turning into a whole new part of the business.
"I really enjoy it because I have a lot of fans I know personally – family, friends, school – and it's an awesome way to show people what you're doing and give them a close-up look. They see the results, but when you share pictures of you getting in the car, racing pictures or fun stuff, it gives people a better idea of what goes on during the weekends. That's what I like about it – I can share stuff with my friends. But it's also an amazing way to grow a fan base."
Owen's next race is in Toronto on June 16-18. You can follow him on Twitter, Facebook and Instagram.