Number 3 in a countdown of the things that racers must do to achieve greatness is to be a professional – in and out of the car, and after you've left the track.
To most, the definition of a professional racing driver is someone who gets paid to race – and for many, that is the ultimate goal. While that is the textbook definition, actually being a professional goes well beyond performing well on the track. It encompasses everything a racing driver does, even long after he or she has pulled off the helmet.
"I think the overall definition for a professional is doing something that some people think is difficult and making it easy for yourself," says Joel Miller, driver of the No. 07 Mazda SKYACTIV Prototype in the TUDOR United SportsCar Championship and an engineer for SpeedSource Race Engineering. "On the racing driver side, being a professional is being the complete package. Not just being able to lay down one clean lap, but beyond that, 10 fast laps, clean laps. In terms of sports cars, there are so many partners that are a part of a factory program … being able to speak to each and every one of them and have that connection is important.
"For me, as well, having the opportunity to develop a car that doesn't have a book of parts that you can go choose from … a professional can help the team figure out an issue, versus getting in a car that's setup and away it goes."
Those are all key points of being a professional – points that Andrew Carbonell, who drives a Freedom Autosport MX-5 in the Continental Tires SportsCar Challenge Street Tuner class, buys into as well. But that's only part of it.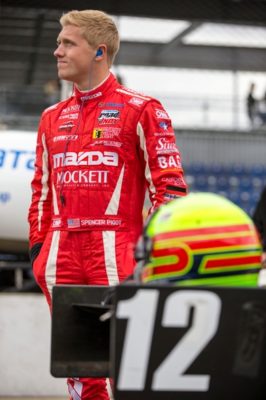 "To be a professional outside the car means encompassing the whole aura of being a driver," Carbonell says. "Being there for the fans, for the manufacturer, for the brand. Showing people the ins and outs of racing. Not just going out there and knocking down fast times, but being a good teammate and helping your fellow drivers."
Carbonell spends a lot of time club racing as well, competing in Spec Miata in SCCA. He gets to see both sides of the coin, and the differences between pros, amateurs, and those that want to make the transition. He and Miller both know that everything they do reflects not only on themselves, but also the team, the sponsors and the brand.
"Your behavior, no matter if you're at the racetrack, at dinner down the road or in town, matters," Miller says. "If someone sees you out and about goofing around, that not only impacts you, but also all the partners that associate with you – the team, the sponsor and, in my case, Mazda. It's very easy for people to make a big deal out of a little issue and they'll ignore the 10 things you did right and look at the one thing you do wrong."
For that reason, Miller always looks up to a team that races across multiple series and has drivers that are almost always above reproach outside the car.
"I always reference the Team Penske guys," he says. "You look at those guys when they're out and about, they're still in their dress – their black pants, their shiny shoes and their white shirts. When you're in a sport like this, when you are a professional, you're always looked at and that's part of being the complete package."
If you want to be a professional, that means being professional 24/7 – not just when the belts are pulled tight.
Related Content:
Be the Complete Racer: Choices
Be the Complete Racer: Fitness
Be the Complete Racer: Study
Be the Complete Racer: Seat Time
Be the Complete Racer: Study at the Track
Be the Complete Racer: Build Your Brand
Be the Complete Racer: Don't Skip Steps