This week's Behind the Zoom blog comes from Jeff Braun, the competition director at Mazda's factory team, SpeedSource. Braun brings his immense expertise and experience from open-wheel, sports cars and more to make the Prototype team more competitive than ever before.
This is my 55th year in racing… yep, the old guy. That means I have had many chances to do things wrong and learn what doesn't work. I bring that experience to Mazda Motorsport's SpeedSource team as competition director. That's a fancy title for the guy who looks at all aspects of the performance of the car, team and organization, and then looks for ways to improve each aspect. It's a great job and gives me a chance to review everything we do in super detail. SpeedSource owner Sylvain Tremblay and Mazda's John Doonan have pushed all of us to make gains every session, every day and every weekend. It's the small things that make a difference and are so important.
We measure our performance in many ways. It's much more than just looking at our best lap time versus the competition; everyone can see that when IMSA releases the time sheets. We go much further. Our special timing software allows us to produce reports on things like average lap times for the fastest 10 laps of a session, allowing us to look at how our drivers are doing in traffic and how consistent the cars perform. One fast lap is not good enough.
We look at the top speeds of all cars, and use that to judge our improvements from changes we make to the aerodynamics as well as comparing us to the much more powerful Daytona Prototypes and other LMP2 cars.
We analyze segment times from around the track. IMSA splits the track into sectors, giving us the times for each car in each segment. We can compare our speed in each turn and see where we are gaining and where we need to improve. Many times this year, our Mazda has been fastest in specific segments, out-pacing all other prototypes. This allows us to see if our development is helping and where. We can see if the track conditions change to slow everyone down, or if our competition have changed their cars for the better.
Each driver fills out reports after each session, detailing what the car is doing in the entry, center, and exit of every corner on the track. This helps our engineers try to improve the car in the most important areas.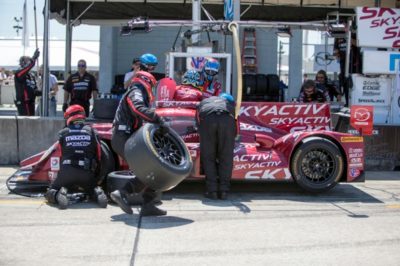 Our crew works incredibly hard on pit stops. They practice in the shop on a replica of a pit wall, then we practice pit stops some more after every session on-track. We measure our progress by looking at the overall time from the pit-in timing line to pit-out. Races can be won and lost in pit lane, so we record video of each stop. Between races, each crew member watches "game film," looking for areas to improve. This has paid off, with our No. 70 car having the best pit stop time of all cars in the first six hours of the Sebring race in March. The TV broadcast allows us to watch the pit stops from our competitors, timing them as well as watching their process. Much like a football team scouts their opponents, we can learn from what the the other pit crews are doing.
We record our team radio communications to analyze every word, when it was said and how it could have been better. No detail is too small to improve.
We take the same approach on engine development. Small steps on every component, as our engine guys have made improvements on virtually every part in the past 12 months. Our improved top speeds show the results of their efforts.
We all wish we could be fighting for wins instantly, but racing is not like that. You win races by doing 1000 things slightly better than the others. And that's my job: to look at each of those 1000 things to see how we can do them better. I love it.