Andy McKee's RX-7 has gone through several classes, wining at every stage. It's now a 350hp, 2000lb. winged and very fast beast.
Andy McKee's X Prepared 1993 RX-7 has spent most of its life as a dedicated SCCA Solo competition vehicle, getting more extreme along the way. As it sits now, prepped to the X Prepared rules, very little of the car is as it was when it rolled out of the factory in Japan. But every change was made with a single purpose in mind: make it faster.
This particular RX-7 has a storied history of winning. It was originally built as an A Street Prepared car in the mid-'90s by Craig Nagler and Tri-Point Motorsports, which went on to campaign Mazdas in the World Challenge Championships. Nagler won the 1996 Solo National Championship in ASP. McKee bought the car in 2004 and took it to Super Street Modified in the first year the class existed, where he won three National Championship in eight years (in the 11 years the SM2/SSM class has been in existence, RX-7s have won nine times; Erik Strelnieks (3) Carter Thompson (2) and Dan Chadwick are the other winners). Then in 2012, McKee decided to take the car to XP.
With Super Street Modified being a class where pretty much anything goes – although the tires must be D.O.T. approved – there wasn't a whole lot to do to make the car competitive in XP short of removing weight and changing to racing slicks.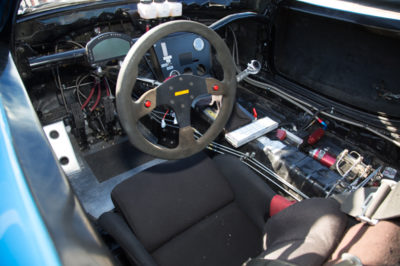 "The first year, since there was so much work involved, we approached it in stages," McKee explains. "The first year was take all the easy weight out of the car. It went down from about 2550 to 2150. That made a big difference."
Since then, McKee has taken more weight out of the car, down to around 2000lbs., pretty close to the minimum of 1978lbs. He's made some small changes to the engine to improve reliability and replaced the stock FD transmission with a Jericho, which he says poses no reliability problems and allows him to select any gear ratios.
The suspension itself has changed little from the Street Modified specs, with only some spring rate adjustments to allow for the reduced weight.
"I have Penske shocks done by Guy Ankeny at Ankeny Racing Enterprises. We've been running those for a long time, and he always tweaks them and gets them right. Most of the rest of the suspension, the arms and stuff, are modified. We have a local guy named Mike Myer; he mostly does classic Mustang stuff, but he's also a really good fabricator. The control arms are custom on the car – there's really not a whole lot of what was stock left anymore.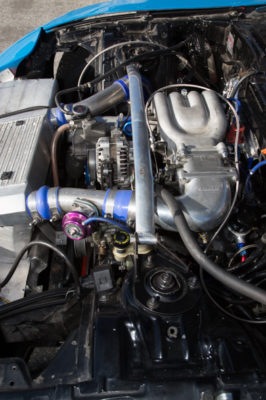 "The motor is still a two-rotor turbo, but the turbo is a Rally Garrett turbo so it spins up really fast and the internals can take a lot of heat. I have some Racing Beat aluminum housings to take out some more weight; the whole motor right now probably only weighs 150lbs., if you take off the turbo," McKee says.
McKee is running it relatively low on boost right now, only about 9psi, which helps the engine to 350hp at the wheels – plenty to make a 2000lb. car scoot.
There isn't really much else to do, although he'd love to get the weight down further so he can put in a roll cage and add a bit of stiffness. McKee finished fifth at the 2014 The Tire Rack Solo National Championships in Lincoln, Neb. and won the recent SCCA Championship Tour event at Crow's Landing near his Northern California home. You can bet, though, he'll keep up the fine tuning to make it faster.