Long Road Racing brings two of its test cars to Mazda Raceway Laguna Seca, running sessions on track with current MX-5 Cup racers.
The current Battery Tender® Mazda MX-5 Cup Presented by BFGoodrich Tires competitors got their first close look at the test platforms for what will be the 2016 MX-5 Cup car. That car will race not only in the U.S., but also in the Mazda Global MX-5 Cup – and will certainly find a home in other venues as well.
Long Road Racing, Mazda Motorsports' partner in developing the next-generation MX-5 Cup car that will be sold complete through Mazda, brought two of its test cars to Mazda Raceway Laguna Seca to run in the promoter test sessions on Thursday, and during MX-5 Cup practice sessions on Friday. The MX-5 Cup is running as part of the Continental Tire Monterey Grand Prix Powered by Mazda, headlined by the TUDOR United SportsCar Championship. Mazda SKYACTIV Prototype driver and 2016 MX-5 Cup test driver Tom Long, Freedom Autosport Continental Tire SportsCar Challenge Street Tuner MX-5 driver Andrew Carbonell and 2014 MX-5 Cup champion Kenton Koch drove the cars on track.
The test day began with Mazda Motorsports Director John Doonan making a few remarks, and Long Road Racing principal Glenn Long giving a presentation about the cars and how they were currently equipped. According to Tom Long, the cars have largely stock drivetrain at this point adding that a long-tube header and exhaust system had been developed and a cold air intake, similar to that on the current MX-5 car, will be created as well. Alternate springs, and shocks were on the test vehicles, but the sway bars remained stock.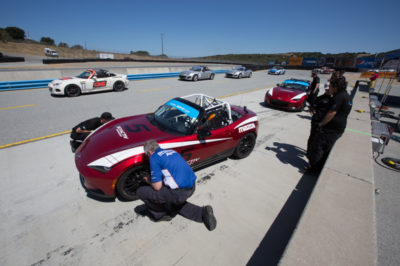 "We're focused on trying to confirm all of our cooling advancements work, and they seem to in our initial testing," says Tom. "We've made upgrades to the engine cooling, oil cooling, the differential and the transmission cooling. Some other things that we have plans to test in the future are upgraded sway bars and some continued development on the suspension – trying different dampers, tires, brakes – those types of things. We're still fairly early in the testing stage."
The Mazda/Long Road Racing crew tried different things in different sessions, testing some chassis rigidity items and changing ride heights to see how the car reacts and confirm the results of the multi-post rig testing and simulations that they have run so far.
Long, who has raced every generation of MX-5 Miata, says the ND reminds him a lot of the original NA car.
"There are some comparisons to the current Cup car, yes, but also through the whole MX-5 chassis line, dating back to the original car," he explains. "It really feels to me like it's a very nicely refined version of the original MX-5. It's very lightweight and nimble. The power-to-weight ratio has been improved compared to the current car, but with the car being so lightweight, it really exudes how nimble handling the car is. All the other systems – the brakes, the gearbox acceleration – are all upgrades to the current model. When you combine that with a lighter chassis and an upgraded suspension geometry, it's proving to be a remarkably fun car to drive."
Mazda will continue its work on developing the MX-5 Global Cup race car over the next couple of months, with a final specification expected to be determined by the end of June. The first cars are scheduled to be completed in October, and current MX-5 Cup competitors will have delivery priority. Check back with MazdaMotorsports.com regularly for updates.